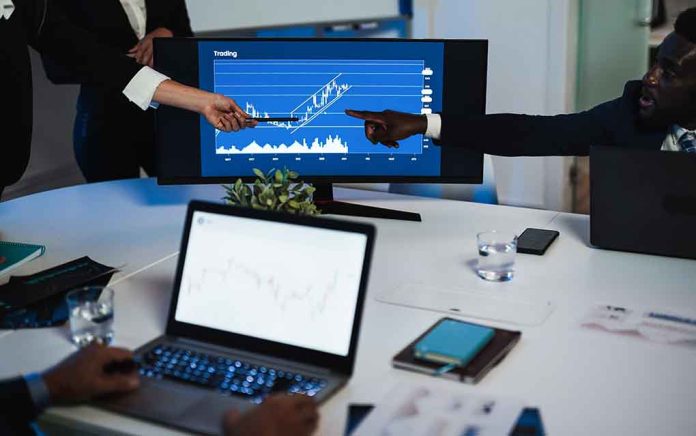 Famous Republican NAMED in Possible Insider Trading Bombshell!
(RepublicanJournal.org) – Representative Madison Cawthorn (R-NC) may have recently lost his primary election amid various scandals, but the controversy around him continues. The lawmaker was allegedly involved in a "pump and dump" scheme with the Let's Go Brandon crypto meme coin (LGBCoin). The representative is listed as a "celebrity endorser" of the coin and experts are accusing him of using insider information to sell his holdings before the cryptocurrency crashed in value.
CRYPTO CROOK: Rep. Madison Cawthorn accused in insider trading scheme https://t.co/MMf93Lb2ku #XRP #Cryptocurrency #Litecoin #Binance #ETH

— GoPickUP Coin – GPUCoin.net (@GoPickUpCoin) May 3, 2022
On April 1, Eric De Ford brought a lawsuit against several people for misleading investors by artificially inflating the cryptocurrency's value and then unloading it for a profit, hurting other unsuspecting investors. The legal document names Cawthorn as one of the defendants.
According to the Stop Trading or Congressional Knowledge Act, the legislator must disclose any holdings of LGBCoin if he owned more than $1,000 worth and profited from its sale. Cawthorn is also prohibited from using "non-public information" for personal gain. Some experts say the lawmaker may have had previous knowledge of a NASCAR partnership with the coin before the news was announced to the masses and scooped up more coins to reap the rewards.
Senator Thom Tillis (R-NC) called for a thorough investigation into the matter because he felt the residents of the state they both represent deserved an explanation.
Insider trading by a member of Congress is a serious betrayal of their oath, and Congressman Cawthorn owes North Carolinians an explanation. There needs to be a thorough and bipartisan inquiry into the matter by the House Ethics Committee. #ncpol https://t.co/3s1UJMk1tj

— Senator Thom Tillis (@SenThomTillis) April 27, 2022
Just before the LGBCoin relaunch in February, Cawthorn introduced legislation that would "deregulate cryptocurrencies," which appeared as a bold conflict of interest considering his promotion of the digital asset.
Lobbyist Craig Holman stated that if the North Carolina politician profited from non-public knowledge, he could face time in federal prison.
So, what do you think of this case? Considering the amount of controversies he's found himself in, is it only a matter of time before Cawthorn gets himself into some serious trouble?
Copyright 2022, RepublicanJournal.org