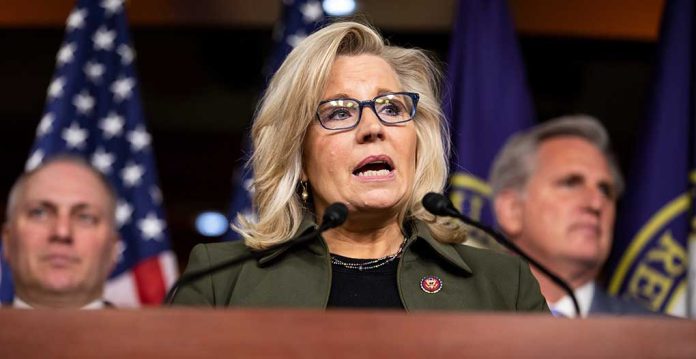 RINO Liz Cheney Is Ready To Admit DEFEAT!
(RepublicanJournal.org) – Representative Liz Cheney (R-WY) has been the face of the January 6 Committee while the group has publicly analyzed the events at the Capitol in early 2021. In a recent interview with The New York Times, the legislator stated she's "standing up for the Constitution," and if that means she loses her seat in the House, so be it. Wyoming's primary election occurs on August 16.
CHENEY COUNTDOWN BEGINS: The conservative movement is exuberant awaiting the official political send-off of the Cheney clan in 8 days when Wyoming voters get to repudiate the Cheney family political legacy once and for all. https://t.co/cYnRciIgnp

— Breitbart News (@BreitbartNews) August 8, 2022
Cheney's quest to take down former President Donald Trump, against the wishes of most of her party, might end her political career. A July poll conducted by Casper Star-Tribune shows her Republican opponent, Harriet Hageman, beating the current lawmaker by a margin of 22%. The managing director of the polling company Mason-Dixon believes there's no chance the Wyoming legislator will keep her seat.
Although Cheney appears to be siding with Democrats on the January 6 issue, along with her colleague Representative Adam Kinzinger (R-IL), the long-time politician insists she is still a Republican through and through. Many on the Right think she's "in bed" with the Left, but the lawmaker says the GOP is "very sick" and may never heal. Fears of Trump regaining power in Washington, unfounded as they might be, are fueling her continued pursuit despite herself.
Do you think the rogue conservative will lose her spot in the House?
Copyright 2022, RepublicanJournal.org