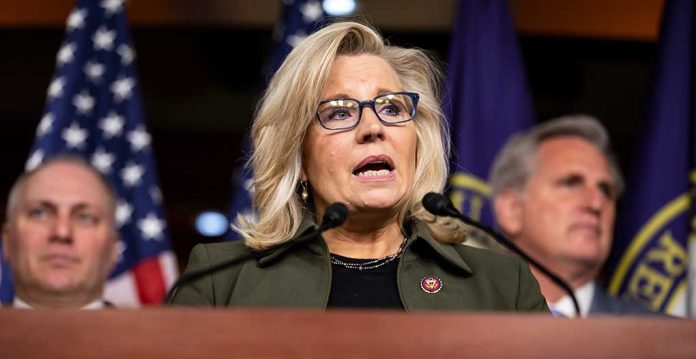 Liz Cheney Promises To Support Democrats, Drawing Republican Mockery
(RepublicanJournal.org) – Representative Liz Cheney (R-WY) recently lost her reelection bid to the Trump-endorsed Harriet Hageman. The soon-to-be former congresswoman has been a staunch critic of the "election deniers" who emerged following the former president's claim Joe Biden stole the 2020 election. She recently pledged her support for Democrats, drawing criticism from members of her own party.
.@Liz_Cheney: "I'm going to do everything I can to make sure Kari Lake is not elected."

Does that include campaigning for Democrats?

"Yes." #TribFest22 pic.twitter.com/nWkdWVcWC6

— Texas Tribune (@TexasTribune) September 25, 2022
Cheney made her comments while speaking at the Texas Tribune Festival. During an interview with Evan Smith, CEO of The Texas Tribune, the Republican asserted she was going to do everything in her power to make sure Kari Lake (R), a gubernatorial candidate in Arizona, didn't get elected. Many see the race between Lake and her opponent Katie Hobbs (D) as one of the most competitive and consequential in the 2022 midterms. Smith asked congresswoman if that meant she would be supporting Democrats, to which the self-described moderate said "yes."
Cheney's willingness to campaign on behalf of Democrats caused her to become a laughing stock among much of the Republican party. Lake herself responded to the congresswoman's comments, claiming it was the "best gift" she'd ever received. The Republican gubernatorial candidate asserted her opposer should switch parties, claiming she "really is a Democrat."
Fact check: True ✔️ https://t.co/MmmSxJMQdH

— Kari Lake (@KariLake) September 25, 2022
Other prominent Republicans, such as Representative Matt Gaetz (R-FL) and Steve Bannon, also joined in on the criticism of the congresswoman. Both doubt Hobbs will defeat Lake, even with Cheney betraying her own party.
Copyright 2022, RepublicanJournal.org