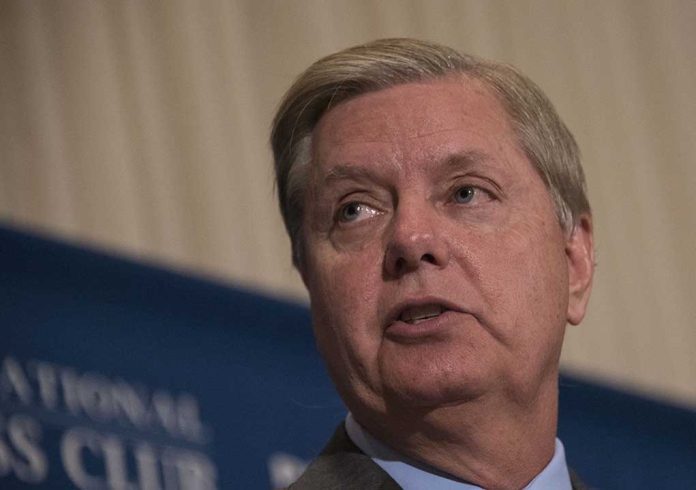 (RepublicanJournal.org) – When we think of religious wars, we often picture regional conflicts in troubled countries far from our own. Even so, the issue of religious discrimination is very much a global one, and the United States is not free of this type of conflict. A hostage situation in a Texas synagogue over the weekend startlingly illustrated this.
On Saturday, January 15, an armed standoff at Congregation Beth Israel synagogue in Colleyville ended after roughly 10 hours with the death of 44-year-old Malik Faisal Akram, a British national. An FBI team fatally shot Akram once the four hostages escaped the synagogue unharmed.
Senator Lindsey Graham (R-SC) appeared on Fox News to analyze what happened with Judge Jeanine Pirro after the standoff. He said it was part of a "religious war" and suggested a "perfect storm [was] brewing." Graham also implied this was just another one of the Biden administration's many failures, adding that former President Donald Trump now looked like the most viable candidate to claim the White House in 2024.
Senator Graham On Hostage Situation At Texas Synagogue: 'This Is A Religious War' https://t.co/I7QeeYXo0F pic.twitter.com/xKIlxufDzQ

— Daily Wire (@realDailyWire) January 16, 2022
Was the attack on Congregation Beth Israel synagogue just the latest incident in a broader trend of hatred between religions, both here and overseas? The fact that teens in Britain were conspiring with Akram is concerning; it suggests the problem is far more widespread than people realize. What do you think is driving these religious attacks?
Copyright 2022, RepublicanJournal.org