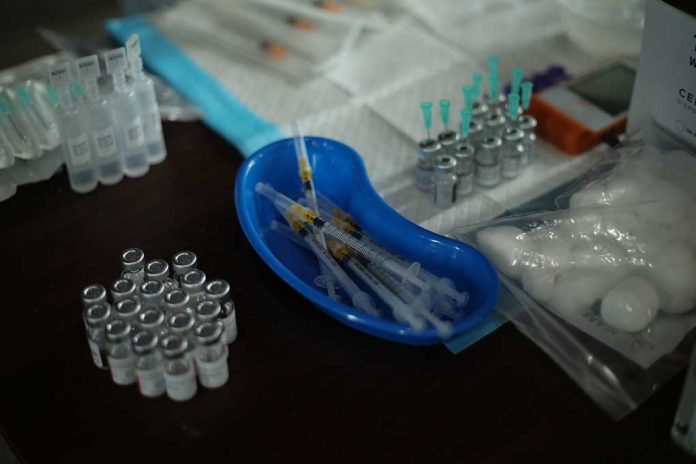 (RepublicanJournal.org) – Earlier this year, the White House published a detailed "Path Out of the Pandemic." It included a notice that directed the Occupational Safety and Health Administration (OSHA) to implement a vaccine and testing mandate. Any business, public or private, with more than 100 workers would have to require its staff to get vaccinated or submit to weekly COVID-19 testing.
As one might expect, that proposed rule encountered significant resistance from Conservative media, politicians, and the general public. Now, it's looking like the law might be against it, too.
Policy Experts Have Their Say
On October 4, Paul J. Larkin Jr. of the Heritage Foundation and former Senate and White House policy adviser Doug Badger published a research paper on the federal vaccination requirement. The 26-page document discusses the logical basis for the policy before moving on to outline statutory and constitutional challenges.
In the two experts' opinion, OSHA is sure to face lawsuits as soon as it enforces Biden's mandate. Once that happens, they claim, courts are highly likely to strike the rule down.
Firstly, they highlight the fact OSHA lacks congressional authority to set rules around vaccines. The agency used something called an "emergency temporary standard" to bypass usual checks and balances, citing the urgency of the situation in relation to public health.
The paper argues that OSHA does not have the mandate to decide on the level of urgency that applies to vaccines or viruses. These matters simply do not fall within the organization's scope of influence.
Larkin and Badger also point out that Congress granted the Department of Health and Human Services (HHS) authority over vaccines. The Food and Drug Administration (FDA) and Centers for Disease Control and Prevention (CDC), both of which exist within the HHS, exercise this authority. As OSHA forms part of the Department of Labor, the agency has no business imposing vaccine mandates.
What Happens Next?
If everything unfolds the way the two experts predict, there will be many happy American businesses and individuals. State mandates are increasingly causing controversy, with companies now appealing to Joe Biden to halt or delay his federal order as the Christmas season looms and staff shortages persist.
The question is simple: will the President persist with the mandate despite these mounting objections and procedural difficulties? Or, will he plow on with it regardless?
Copyright 2021, RepublicanJournal.org