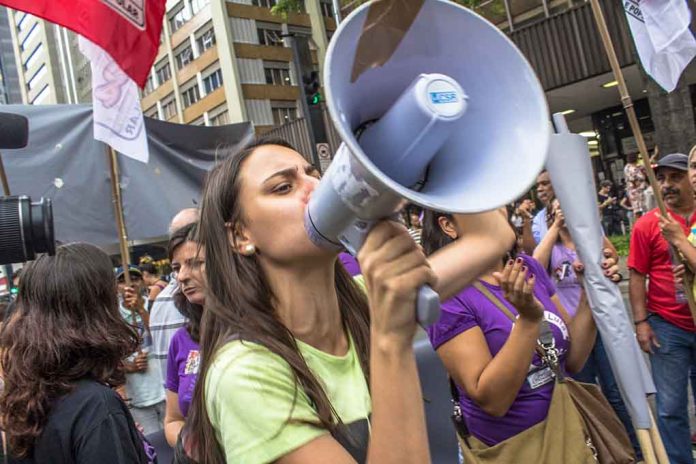 Left-Wing Group Threatens MURDER – Video Evidence Released
(RepublicanJournal.org) – Radical left-wing groups like Black Lives Matter (BLM) and Antifa have become an increasingly violent presence in many Western nations in recent years. The most recent episode of this nature was at a women's rights event in Bristol, England, after the extremists clashed with demonstrators.
On Sunday, June 19, a group of protesters gathered in the city for a "Let Women Speak" protest, which criticized various elements of gender ideology, particularly efforts to push this ideology on children. A counter-protest then sprang up, with a large number of masked individuals shouting threats and behaving in an aggressive fashion. Police officers had to restrain the counter-protesters to prevent them from engaging physically with the "Let Women Speak" group.
Members of the counter-protest were shouting "you're going to die out," labeling the protesters "transphobic fascists," "fossils," and "dinosaurs." You can see what happened for yourself in the Twitter video below.
Bristol, England: Today, #Antifa members from the Anarchist Federation & other far-left extremists gathered to try & shut down a women's rights gathering. The feminists were accused of being transphobic fascists & required police protection.pic.twitter.com/v2Mx6nkBGt

— Andy Ngô 🏳️‍🌈 (@MrAndyNgo) June 19, 2022
At least one person involved had a visible Antifa tattoo, and some members of the counter-protest were carrying Antifa flags. One individual participating in the counter-protest was photographed with what appeared to be an erection.
According to journalist Andy Ngo, who published several tweets covering the event, the Antifa protesters were even planning to throw members of the opposing protest into the harbor. The radical group denies the allegations and insists it's a nonviolent organization.
Do you think Antifa's actions were an acceptable form of protest, or is the group dangerous and excessive?
Copyright 2022, RepublicanJournal.org