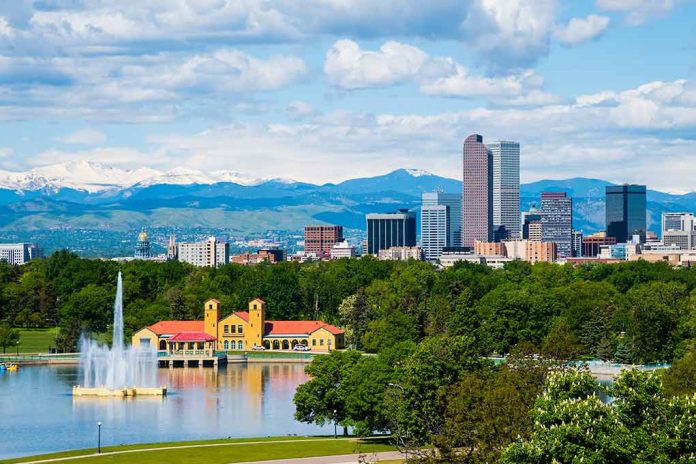 (RepublicanJournal.org) – A Republican congresswoman has raised eyebrows after being filmed on a steamy theater date. Now it turns out the man she was with isn't just a Democrat; he's also the owner of a gay bar that hosts drag shows.
On September 10, Representative Lauren Boebert (R-CO) and an unidentified man were kicked out of Denver's Temple Hoyne Bell Theater during a performance of "Beetlejuice: The Musical." Theater staff said three other customers had complained that she was singing, vaping, recording, and "causing a disturbance."
Her campaign manager later said she denied vaping but admitted taking a photo of the show on her phone, being unaware that was prohibited. However, video from another customer later showed that Boebert was vaping — and, as well as that, she and the man she was with were intimately touching each other in full view of the public.
Now her mystery date has been traced — and for fans of the MAGA firebrand, her choice of boyfriends is a bit of a surprise. Quinn Gallagher owns an Aspen cocktail bar that hosted a "Winter Wonderland Burlesque & Drag Show" in January.
Boebert has certainly mentioned drag shows a few times herself, but it's fair to say she doesn't come across as a fan. In fact, she's been a loud opponent of drag shows being staged for children. In June 2022 she tweeted, "Take your children to CHURCH, not drag bars." She's also protested about the US military using drag queens in recruitment ads and highlighted left-wing opposition to state laws banning drag shows for children. In June 2023, she asked why liberals are "so determined to perform drag shows for kids that they'd go through the trouble of suing for the right?"
In May, Boebert announced her divorce from Jayson Boebert, so she's free to date again. However, it seems she's now decided Quinn Gallagher isn't the man for her. She told reporters on September 18 that she's "peacefully parted" from him.
Copyright 2023, RepublicanJournal.org