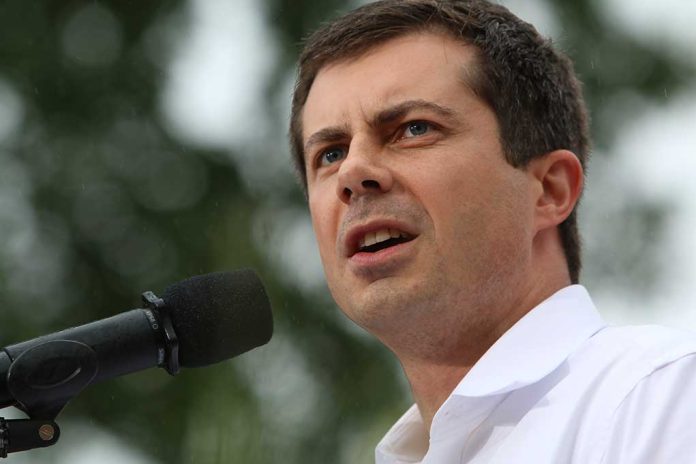 (RepublicanJournal.org) – In recent months, train derailments have been receiving more national attention, especially the one that took place in East Palestine, Ohio, and dumped toxic chemicals into the surrounding community. After another train derailed in Maine on April 15, House Representative Lauren Boebert (R-CO) took to Twitter to attack Secretary of Transportation Pete Buttigieg for his handling of the situation.
On April 15, a train run by the Canadian Pacific Railway went off the rails near Brassua, Maine. While no toxic material was released, responders did have to put out a fire that ensued from the crash. Boebert, upon seeing the news, insulted Buttigieg on Twitter with the following:
Buttigieg is running this country's rail system like a toddler playing with his first toy train set. https://t.co/DeOLcVFRl3

— Lauren Boebert (@laurenboebert) April 16, 2023
These comments came a few weeks after Boebert appeared on Fox News' "Unfiltered" with Dan Bongino to criticize the transportation secretary. During that exchange, Boebert said Buttigieg "needs to watch more of Thomas the [Tank] engine to really understand how our infrastructure works."
As of Wednesday, April 19, nearly 4 million people have seen the Colorado lawmaker's tweet, giving it over 1,500 retweets and more than 7,500 likes.
Boebert: Here he is dressed as a white male construction worker while President Trump was delivering real victories for the American people providing the needs they needed in that moment in that time pic.twitter.com/INK2sXc12s

— Acyn (@Acyn) February 26, 2023
While the news makes train derailments seem like they are happening more often than usual, the Bureau of Transportation Statistics notes there have been 54,529 train derailments across America between 1990 and 2021. Still, these criticisms of President Joe Biden's pick for transportation secretary are not new. The former mayor of South Bend, Indiana, has little experience building and coordinating the infrastructure of an entire nation.
Back in March, GOP representatives including Representative Mike Collins (R-GA) asked that Buttigieg resign from his position, declaring him "unfit to lead," according to Fox News. The Georgia lawmaker said that the appointee spends more energy "on diversity training and identity politics than on building and maintaining America's transportation system." If Buttigieg wants a future in politics or the Democratic party, he will need to show Americans that he can make progress toward a safer and more reliable transportation system in the US.
Copyright 2023, RepublicanJournal.org