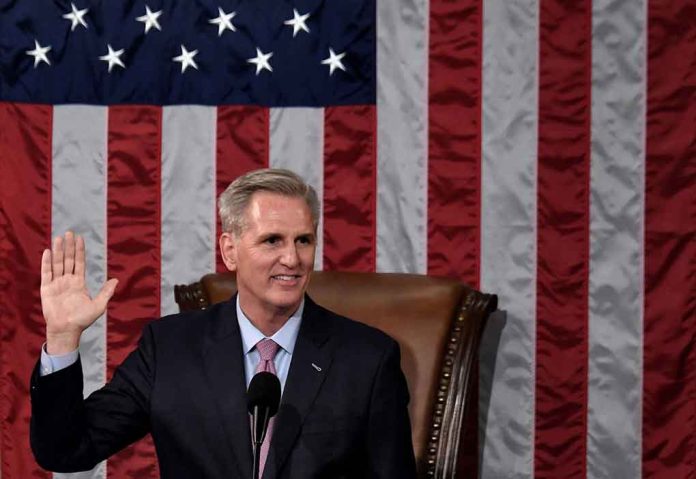 (RepublicanJournal.org) – The investigation into the Capitol riot in January 2021 has been hugely controversial. The partisan committee running it is prejudiced against former president Donald Trump, seeming to have decided he's guilty long before the probe is complete. Now the new House Speaker wants to let some daylight into the murky process.
"Just put all the information out there and let people see what is truth and what is not."https://t.co/MdVFH0Xd5a

— Daily Wire (@realDailyWire) January 16, 2023
Talking to Fox News on January 15, House Speaker Kevin McCarthy (R-CA) said the January 6 Committee has become politicized. To make sure the public knows what really happened that day, McCarthy wants to open up access to the key evidence — the 14,000 hours of footage recorded by the Capitol's security cameras that day. This evidence was handed over to the committee in 2021, but up to now, it hasn't been available to the public. The House Speaker wants to change that.
McCarthy believes that releasing the tapes will "let people see what is truth and what is not." Those who distrust the committee are likely to support the move, but others are against it. One argument is that the footage shows the interior of the Capitol, making it easier for future rioters to plan attacks. McCarthy is aware of the risks and has already said he wants to be "very thoughtful" about making the recordings public, but he's still keen to do it. On Sunday he told Fox he thinks Elon Musk's dumps of sensitive company data from Twitter could be an ideal platform.
The move quickly gained support from Representative Matt Gaetz (R-FL), who said the footage will give a more accurate picture of what happened on January 6, 2022 compared to the "cherry-picked moments" the Committee is highlighting. Gaetz also rejected the security argument, saying he thinks the Justice Department is exaggerating the risk to hide the fact federal agents acted illegally. Meanwhile, McCarthy admits he hasn't actually seen the tapes himself but added, "I just think they should be released."
Copyright 2023, RepublicanJournal.org