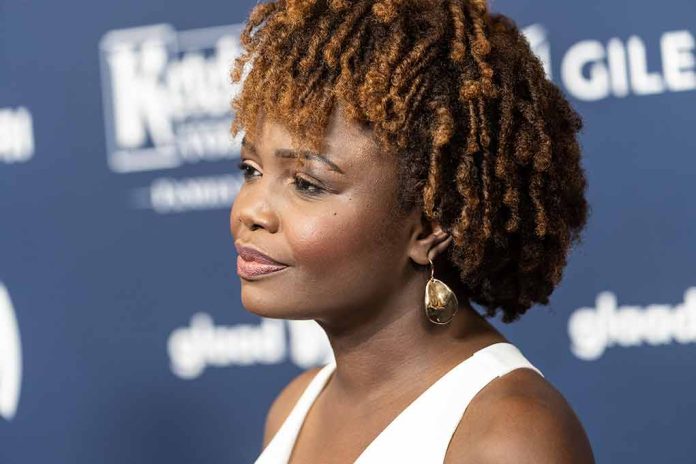 (RepublicanJournal.org) – Press Secretary Karine Jean-Pierre butted heads with Fox News' Peter Doocy during a May 2 press conference after the correspondent asked about the White House's decision to send 1,500 military troops to the southern border. When Doocy attempted to fact-check one of her claims, the press secretary told him to take down "the dramatics."
Karine Jean-Pierre has a very difficult time explaining the Biden administration's plan to deal with the imminent southern border surge pic.twitter.com/sgT4fP2yi5

— RNC Research (@RNCResearch) May 2, 2023
Doocy referred to Jean-Pierre's statement during a May 1 briefing, "you've seen [illegal immigration] come down by more than 90%." She was discussing the humanitarian parole program at the time, but her language implied that the figure applied to all immigration statistics. She went on to commend the Biden administration for its efforts but admitted they still had a lot of work ahead to rein in the numerous ongoing issues officials and residents face at and around the border.
Doocy's line of questioning was attempting to clarify the inaccurate total, but Jean-Pierre shot down the reporter as he tried to assemble a cohesive picture. The correspondent merely qualified his question by sharing more accurate figures, prompting frustration on Jean-Pierre's part, and the two spoke over one another for a moment before the press secretary stated, "If you … if the dramatics could come down just a bit."
Doocy shot back, asking, "What's dramatic about asking a question?"
While Jean-Pierre did specify that she had been discussing the "parolee program" when she made the statement, she did little to address the misunderstanding. Doocy made one final attempt to prompt a clearer response, at which point the press secretary shut him down and moved on to a different reporter.
Immigration has been an ongoing issue throughout the Biden administration. Last year set records with border officials recording 1.7 million encounters in the 2022 fiscal year. Currently, about 200,000 people attempt to enter the United States illegally each month. The White House, expecting those numbers to grow as pandemic restrictions finally lift, ordered the extra troops in anticipation of the added demand for security.
Copyright 2023, RepublicanJournal.org