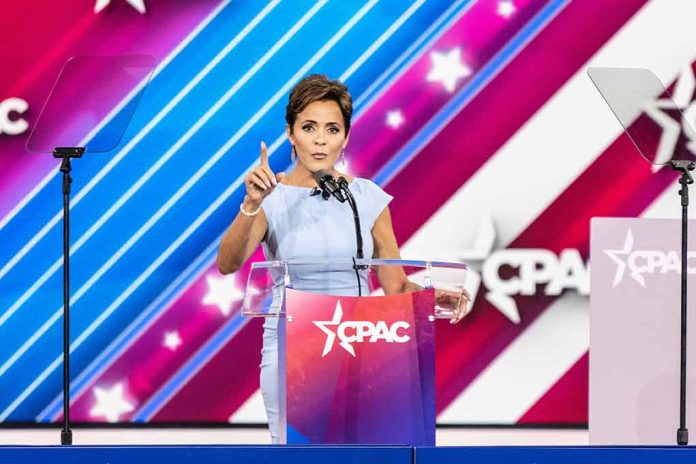 (RepublicanJournal.org) – It's been over six months since the 2022 Arizona gubernatorial election, but GOP candidate Kari Lake still hasn't given up. Her latest attempt to overturn the election result recently failed, but she's planning to try again. She's also promising the biggest ballot chase the nation has ever seen.
On May 22, Maricopa County Superior Court threw out Lake's lawsuit alleging that the county had violated Arizona law when it verified the signatures on mail-in ballots last November. Judge Peter Thompson ruled that Lake hadn't shown county officials checked signatures too quickly to ensure they were genuine. However, he didn't sanction her for bringing the suit, saying that while there wasn't enough evidence to support her claim, it wasn't necessarily groundless.
Lake certainly doesn't think it is, and she's refusing to give up. She plans to appeal the decision. Her faith in the electoral system has definitely been dented, though, and she wants to make sure the state does better next time. After the latest court setback, she said her organization, Save Arizona, will be working hard at next year's election — and it's "officially launching the largest most extensive ballot-chasing operation in our state's history."
According to Lake, the court has "ruled that our elections can run lawlessly," and admitted that "anything goes." She insisted that Republicans can play that game, too.
Lake hasn't given up on the issue she says cost her the election last year. She added that it's vital every ballot is scrutinized to make sure the election process is fair. She also said her lawsuit isn't over yet and vowed to pursue the case all the way to the Supreme Court if that's what it takes. Lake believes she would be Governor of Arizona now if the election had been fair, and she doesn't plan to miss another chance.
Copyright 2023, RepublicanJournal.org