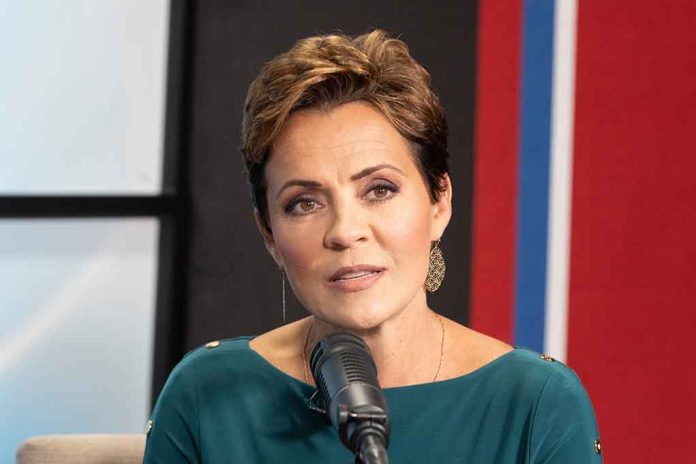 (RepublicanJournal.org) – Republican Kari Lake called foul after losing Arizona's 2022 governor election to Democrat Katie Hobbs by less than a 1% margin. Insisting "half a million" votes had gone unaccounted for and believing the difference would have named her the winner, she took her case to court — and lost. She promised in a recent press release to keep fighting, taking her case all the way to the Supreme Court if necessary.
Lake, an avid Donald Trump supporter, is adamant that Democratic government officials rigged Arizona's polls against her, denying the conservative candidate her rightful place as the state's leader. She vowed to "chase ballots" until every voter who'd gone unaccounted for got tallied. Claiming Democrats don't play by any rules, she stated Republicans should play equally as dirty before qualifying her statement: "I'm being facetious. I'm sure that'll be your headline." Yet, she then added, "The courts have ruled that anything goes. If anything goes, then anything goes."
Going on to call state officials currently sitting in their elected positions "frauds," Lake claimed to have had the backing of 75% of voters. She insisted functional issues with 60% of polling sites left many conservative voters "waiting in the hot sun for three to four, five or six hours." The failed candidate called the people in charge of Maricopa County elections "buffoons" who voters couldn't trust and said she was unwilling to "leave any vote on the table."
Lake circled back to her "ballot-chasing operation," noting that despite her negative feelings about mail-in voting, "if we got to work in their rigged system, we'll work in their rigged system." She insists she has irrefutable proof "that chain of custody wasn't followed," calling signature verification "a joke" and claiming Arizona voters "were disenfranchised" at the polls. She believes God sent her on the "path into politics" and believes responsible Americans must fight the corruption she feels is destroying the nation.
Copyright 2023, RepublicanJournal.org