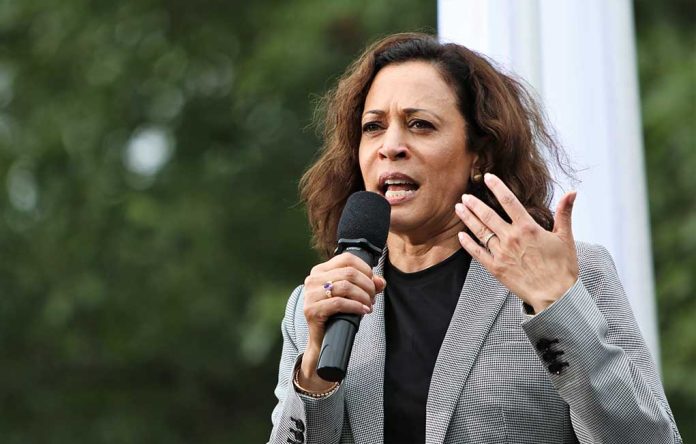 (RepublicanJournal.org) – On February 1, Vice President Kamala Harris attended the funeral of Tyre Nichols, a young man who allegedly died at the hands of police. The second-in-command offered a speech to grieving friends and family members, during which she asked Congress to pass HR 1280, or George Floyd Justice in Policing Act of 2021. The bill would add to existing efforts to increase accountability among law enforcement officers.
At the funeral of Tyre Nichols, Vice President Kamala Harris called on Congress to pass the George Floyd Justice in Policing Act. https://t.co/4ps8d9oqvB

— Los Angeles Times (@latimes) February 2, 2023
Nichols died in the hospital three days after a violent altercation with police. He allegedly attempted to flee from officers during a traffic stop for reckless driving. One officer reportedly deployed his Taser to subdue him, while others appeared to beat the man senseless. Another unleashed his pepper spray as the suspect began screaming for his mother. Body cam footage paints a brutal picture of excessive force and, later, gross neglect of a desperate and dying man denied prompt emergency medical treatment.
The Shelby County, Tennessee, District Attorney's office later charged five former police officers with second-degree murder, but other individuals could also face charges as the investigation continues. Nichols and the five former officers currently charged are all black. Still, many activists insist "systematic racism" contributed as a major factor in Nichol's death.
During her speech, according to the DailyWire, Harris said the passing of HR 1280 was "non-negotiable." The bill would generate various changes in current policy to reduce misconduct, improve transparency, and provide newcomers with more rigorous training requirements.
The new law would include changes in determining criminal intent, allowing for "reckless" acts to fall under the new umbrella. It would also limit police immunity in civil cases and allow the Department of Justice to subpoena witnesses in police misconduct investigations.
Additionally, it would severely limit dangerous restraint techniques and no-knock warrants, create uniform accreditation for officers, and specify that responders must intervene if they witness any of their peers appearing to use excessive force on a detainee.
Copyright 2023, RepublicanJournal.org