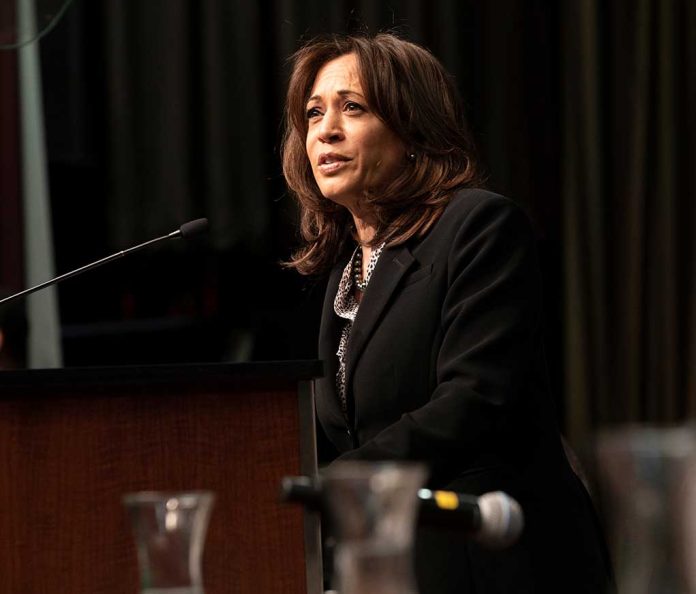 Kamala Harris STRUGGLES In Shocking Video – Viewers Are Worried
(RepublicanJournal.org) – Vice President Kamala Harris recently spoke at the Association of Southeast Asian Nations (ASEAN) summit addressing climate change. She repeated variations of working together several times in the same sentence during her speech, and although Harris appeared to glance down at her notes several times, she still struggled with her words. Whether she wrote the speech herself or someone else did it for her, the message was oddly repetitive.
.@VP at #USASEAN45: Our world is more interconnected and interdependent. That is especially true when it comes to the climate crisis, which is why we will work together and continue to work together to address these issues. pic.twitter.com/pmo6JmFNH5

— Department of State (@StateDept) May 13, 2022
In addition to the four times Harris mentioned working together in the clip tweeted by the US Department of State, News 18 reported the vice president going on to reiterate the point for a final time before the end of her talk.
This instance isn't the only time the Biden Administration has fumbled over their words, with the commander-in-chief also having many gaffes under his belt. In 2020, Biden said that if a voter didn't know if they were for him or Trump, they weren't black. More recently, the White House had to come out and correct the president's words multiple times. One instance involved US troops in Poland, and another was regarding the removal of Russian President Vladimir Putin.
With all the misspeaks among the Biden Administration members, one has to wonder why they have such a difficult time getting their point across to America. Doesn't it damage their reputation?
Copyright 2022, RepublicanJournal.org