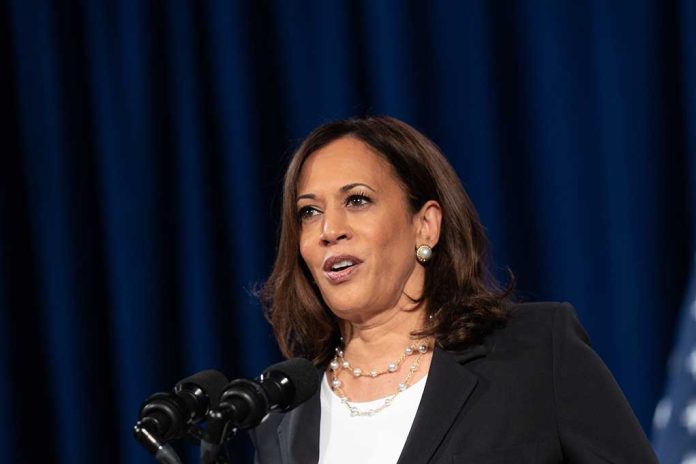 (RepublicanJournal.org) – White House Secretary Karine Jean-Pierre held a briefing on Saturday, May 20, to discuss national security and the country's current standing on various issues. The presser took an awkward turn when a reporter, noting President Joe Biden's work overseas and the possible delays his absence could create in resolving the debt ceiling, asked about the budget and Vice President Kamala Harris' role in furthering negotiations. Specifically, the correspondent wanted to know why she wasn't working in Biden's place while the president was conducting meetings in Japan.
The reporter cited an instance during the Obama administration, during which the president "deputized" Biden to lead negotiations in his place while he was away. They asked why Biden didn't trust Harris to take the helm in a similar manner.
Jean-Pierre Bristles When Fox's Peter Doocy Asks 'Why Doesn't President Biden Trust VP Harris' To Lead Talks https://t.co/joUTrswvyG

— Mediaite (@Mediaite) May 20, 2023
Jean-Pierre appeared to sidestep the question, stating the vice president was part of recent negotiations, but the press secretary also implied that Biden himself wanted to remain part of the discussions. Without stating the second in command didn't have what it takes to do the job, the press secretary noted, "The president has been there before. […] He knows how this all works. This is not new to him."
Biden traveled to Hiroshima for the G7 conference, where he discussed the future of the Indo-Pacific with a handful of relevant leaders. Meanwhile, disagreements between Republicans and Democrats remained heated over the domestic spending budget.
The president claims the Right wants to include $30 million in tax breaks for oil producers, adding that said companies made $200 billion last year. He also alleges conservative lawmakers want to offer pharmaceutical companies "$200 billion in excess payments" while seeking to gut Medicaid.
While it's true that Republican lawmakers, like House Speaker Kevin McCarthy (CA), want to see more spending cuts and breaks for oil companies, according to The Washington Post, the representatives also want work requirements for people to qualify for access to social programs and changes to energy production permitting processes to improve domestic fossil fuel production.
Copyright 2023, RepublicanJournal.org