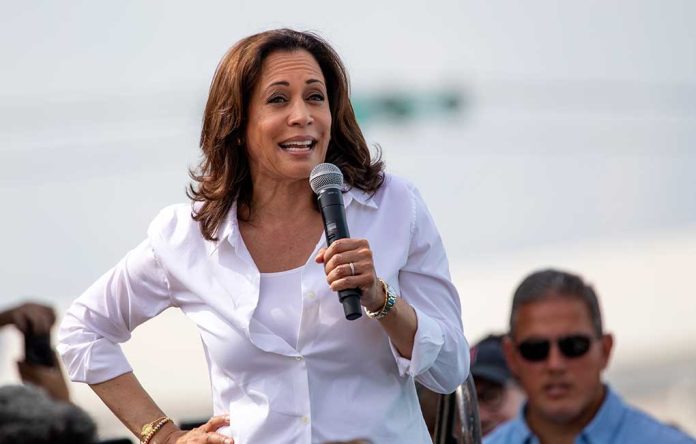 Arrest Order REVEALED – Kamala Harris Reacts!
(RepublicanJournal.org) – On July 7, Governor Greg Abbott (R-TX) authorized the Texas Department of Transportation and the state's National Guard to arrest illegal immigrants in the Lone Star State and return them to the border — a problem he blames on President Joe Biden. Vice President Kamala Harris responded to the move on "Face the Nation," stating the Texas leader should look for solutions to the migration issue instead of "flame-throwing" at the president's administration.
In fact, she said it was former President Donald Trump who caused problems in the failing immigration system.
VP Kamala Harris accuses Texas Gov. Greg Abbott of 'flame throwing' for defying Biden and ordering arrest of illegal migrants:  Comrade VP Kamala wants some of those bribes Biden's have received his entire career!
https://t.co/vgv8NhOR5C

— Ron Starr (@rstarr0) July 10, 2022
The VP has advocated for an easier path for immigrants to become citizens of the United States. She believes that approach is more humane than rounding up people who came here illegally and returning them to the border. Unfortunately, her plan doesn't seem effective.
The US Supreme Court recently ruled Biden could lift the policy requiring migrants to remain in Mexico while they awaited border patrol processing. Since then, the Daily Mail reported a "record surge" in people approaching the southern crossing into the US.
Abbott said in his executive order that the Biden administration is failing to execute immigration laws passed by Congress, leaving Texas to deal with the "invasion" and the increased crime in the area. Experts believe his approach could violate people's civil rights and perhaps invite a federal lawsuit against him, but the Texan governor shows no sign of backing down.
Copyright 2022, RepublicanJournal.org