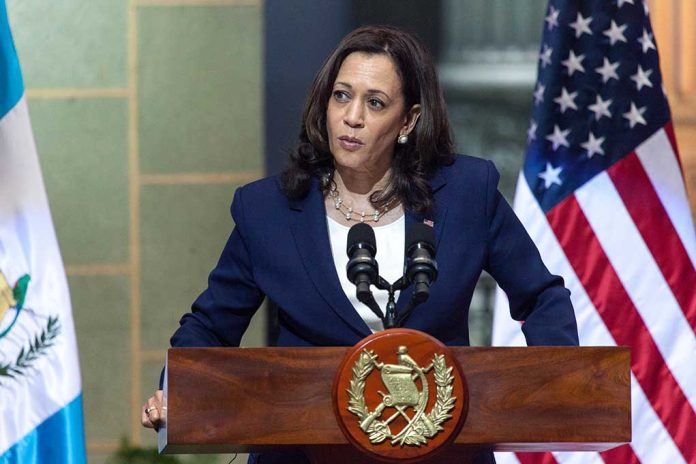 (RepublicanJournal.org) – Vice President Kamala Harris recently sat down with Stephen Colbert on "The Late Show" for her first interview with the host since taking office. The second in command discussed her role in the White House, noting her recent efforts to hold Russia accountable for war crimes. While on the subject, she took the opportunity to knock Florida Governor Ron DeSantis for his views that the United States should leave Ukraine to its own defenses.
Kamala says DeSantis doesn't 'understand' Ukraine war and laughs saying her office is like VEEP | Daily Mail Online https://t.co/QgBOwFcFBw

— Melanie (@MellieMAGA) March 16, 2023
Harris told Colbert she's seen a broader picture of the international scheme after meeting with over 100 world leaders during the course of her work. She noted that someone lacking such exposure might not understand the impacts different policies and actions can have between countries. Just as important, according to the vice president, is the stance to which the US adheres: we value "the significance of sovereignty and territorial integrity" as well as the meaning behind standing steadfast against any other country that would forcefully attempt to take over another. Harris noted that no one who understood these nuances would ever offer a statement such as the one DeSantis made regarding Ukraine.
The reply refers to DeSantis' response to a questionnaire Fox News' Tucker Carlson sent out to potential GOP candidates, which asked for each of their views on the continued conflict in Ukraine. The Florida governor diminished the invasion in his reply by calling it a "territorial dispute" and slammed the Biden administration for the open-ended "blank check" to the war-torn nation. DeSantis also blamed the current president for "driv[ing] Russia into a de facto alliance with China," warning that more aggressive actions on our part would threaten "a hot war between the world's two largest nuclear powers."
Responding to the same question, former Vice President Mike Pence, New Jersey Governor Chris Christie, and entrepreneur Vivek Ramaswamy all stood firm against Putin and his unprovoked war. Former President Donald Trump and South Dakota Governor Kristi Noem disagreed with US involvement and believe reserving resources would better serve the nation in a potential conflict with China, which they felt was the country's biggest threat.
Copyright 2023, RepublicanJournal.org