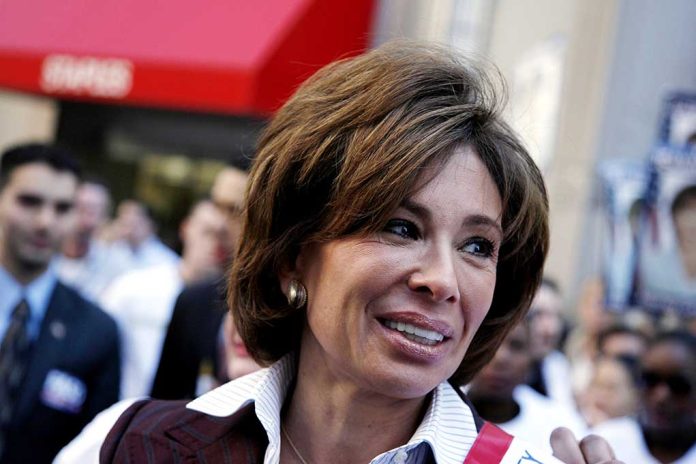 (RepublicanJournal.org) – Kamala Harris hasn't had the greatest success fulfilling her duties as vice president (VP). Praised by liberals for being the first female in the position, she's since suffered criticism for failing to solve our border security problems. She's the least popular VP in US history. Now, Judge Jeanine has opened a new line of attack on her.
Judge Blasts Harris
On June 27 Dana Perino discussed the VP with co-host Judge Jeanine Pirro on Fox's "The Five." Perino pointed out that, ever since Harris took office, there's been a constant stream of attempts to restore her collapsing reputation. So far this was pretty standard fare; Harris and her endless rebranding attempts have been a regular target for the media. However, Pirro's ferocious response stunned viewers, leaving no doubt what she feels about Harris.
Pirro reminded viewers that the vice presidency is a vital job — not because of what the VP actually does, but because at any moment they could be called on to take over. Four US presidents have died in office from natural causes, four were assassinated, and one has resigned. Of all our previous presidents, one in five has been replaced by their vice president. With President Joe Biden now 80 years old and visibly failing — yet determined to run for a second term — it's vital we have a vice president who's up to the job and trusted by the American people.
Judge Jeanine doesn't think Harris is that vice president. She blasted her unpopularity, citing a new poll that found 39% of registered voters have an extremely negative view of her and another 10% a merely negative one, leaving her with a dismal approval rating of -17%. Pirro criticized Harris for the "toxic work environment" in her office, which has a notoriously high turnover of staff. Then, controversially, she changed tack and brought up Harris' gender.
An Example for Women?
When Harris took office, President Biden and other Democrats pointed to her as an example of how high women could progress in the US. Judge Jeanine said Harris was "in a position to make it easy for other women behind her to come forward and do the job" — but, instead, "she has established the precedent that a woman is incapable of being vice president."
Predictably, the left is outraged at Pirro's words; the Huffington Post called it "beyond the pale." However, the truth is the American people don't think Harris is capable of doing the job, and instead of being an example of how women can succeed, she's become an example of how, like men, they can also fail.
Copyright 2023, RepublicanJournal.org