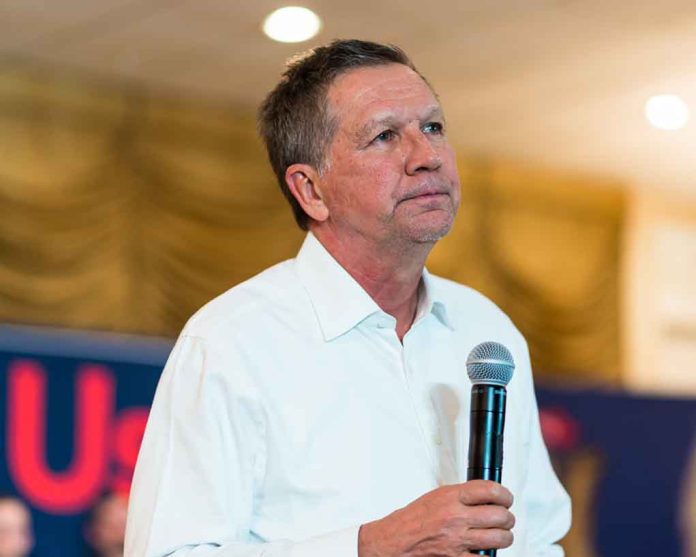 (RepublicanJournal.org) – Former Ohio Governor John Kasich revealed that he had a good cry after realizing he was going to lose the 2016 Republican primary to former President Donald Trump. Kasich made the statement while chatting with "The Daily Show's" Jordan Klepper, a known anti-Trump liberal. The two have a podcast together called "Kasich and Klepper."
The exchange came during an interview with TV star Julie Bowen, captured by Mediaite. Kasich decided he'd tell the story of the fateful flight home the night he knew he wouldn't be president. Kasich faced criticism from never-Trumpers who felt that he and Senator Ted Cruz (R-TX) should have found a way to offer the GOP a single alternative to Trump. Kasich said he had to hang on, feeling as though he may be the last obstacle between the media personality-turned politician and the White House.
John Kasich Says He 'Cried' After Trump Won 2016 GOP Nomination, Hoped People Would 'Come to Their Senses' https://t.co/rgPHZl7H17

— Mediaite (@Mediaite) April 21, 2022
Kasich, a moderate Republican — some would insist "in name only," says that when he landed and realized it was over, he went behind a building to cry. "I had one good cry," the podcaster said, "and then I moved on."
Kasich's exit from public life came at a time when many mainstream Republican politicians decided to step aside and allow the next generation of GOPers to take over. The fact that another man winning brought him to tears may show that he wasn't quite suited for the position to begin with. Do you think Kasich was overreacting?
Copyright 2022, RepublicanJournal.org