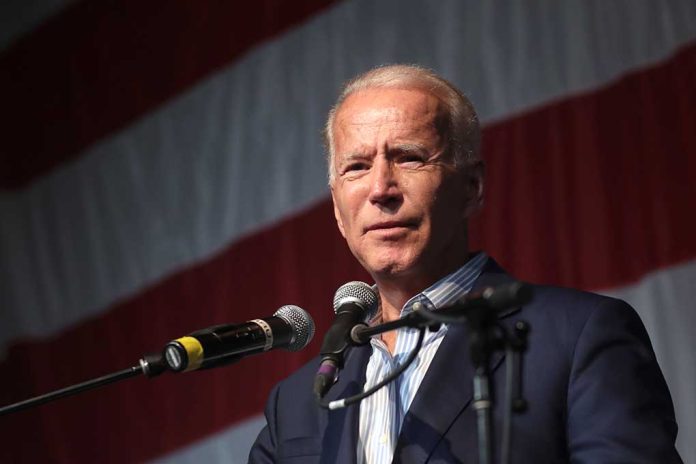 (RepublicanJournal.org) – Podcaster Joe Rogan spoke with comedian Russel Brand during his March 2 broadcast of "The Joe Rogan Experience." During the episode, the host raged over President Joe Biden's administration, picking apart the president's cabinet and slamming his competency.
Rogan shared details about a conversation he'd had with fellow podcaster Eric Weinstein during the previous presidential election, admitting they had exchanged reservations about choosing between both Biden and Donald Trump. Whereas Weinstein noted he simply couldn't vote for the MAGA conservative, Rogan stated he felt the same way about the Left's pick — and given a choice, he'd vote for Trump over Biden. Even back then, the podcaster felt Biden was "gone," meaning Americans would "be relying on his cabinet" to keep the country on track. Rogan had predicted Biden's picks would leave the administration with a "sideshow of diversity." The host raged when he added that's precisely what happened.
Joe Rogan: Biden Is 'Mentally Gone,' America Is Run By 'F***ing Sideshow Of Diversity' Admin https://t.co/jA4oxPo95q pic.twitter.com/znhjCsXglw

— Daily Wire News (@DailyWireNews) March 6, 2023
Reflecting on the presidency so far, Rogan noted how much Biden has "deteriorated," calling it "bizarre." He pointed specifically at Sam Brinton, calling the person "a diversity hire." The host implied the Biden administration seemed to put more qualification behind the fact that this genetically male individual went around in dresses and lipstick than their actual experience or credentials — because it would make the administration appear inclusive. According to Rogan, "those kind [sic] of people" aren't fit to manage an ice cream parlor, let alone the "most powerful government the world's ever known."
The White House fired Brinton, the administration's first openly non-binary official, from the Department of Energy after news broke regarding felony theft investigations. Prosecutors believe the former cabinet member stole suitcases from multiple airports nationwide. Surveillance cameras caught Brinton leaving Harry Reid International Airport with almost $4000 in jewelry, makeup, and clothing. Fashion designer Asya Khamsin claims she started seeing pictures of the ex-official in her original dresses after her suitcase went missing.
Copyright 2023, RepublicanJournal.org