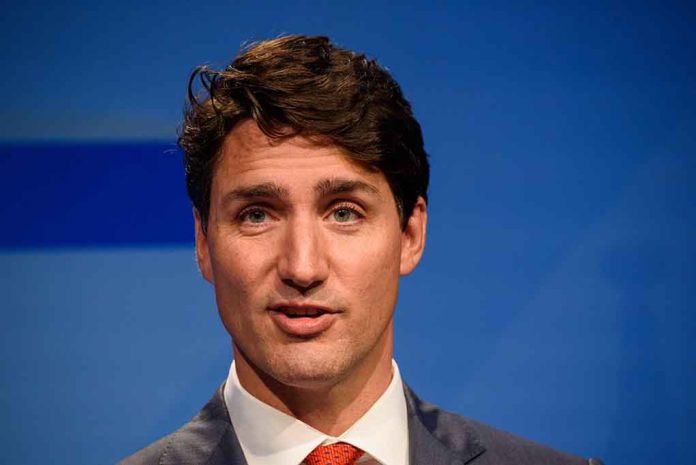 Justin Trudeau TARGETED by World Famous Podcaster
(RepublicanJournal.org) – On July 14, podcaster Joe Rogan invited comedian Tom Segura onto his show where they discussed the state of Canadian politics. During the discussion, the commentator said the country is communist, and that Prime Minister Justin Trudeau showed he was a dictator during the pandemic. Although Rogan admitted he liked the Canadian leader before COVID-19, he now says the PM is "gross" and "sketchy."
WATCH: Joe Rogan Says 'Canada Is Communist' And Calls Trudeau A 'F***ing Dictator' https://t.co/bG80aWKT14 pic.twitter.com/Ndk5yuVd9z

— World News Guru (@worldnews_guru) July 18, 2022
The pair also reviewed the northern country's draconian policies regarding the virus, saying its residents have to get vaccinations "every few months," and nobody can visit without proof of inoculation.
Rogan isn't the only person to criticize the prime minister over coronavirus restrictions. Residents of Canada have grown frustrated with the measures, not to mention the truck convoy in Ottawa back in February, which protested vaccine mandates in the country. Some in the European Union Parliament believe he responded to their outcry much like a "dictator," giving credence to Rogan's remarks.
A recent survey by Polling Canada showed about a third of the nation's citizens think Trudeau is the worst PM in the country since 1968.
Rogan claimed on his podcast that the leader tries to discount criticisms by calling them racist and misogynistic, adding that Canadians should dump him.
Do you agree with Rogan and other critics of Trudeau? Do you feel residents of the country should vote him out of office?
Copyright 2022, RepublicanJournal.org