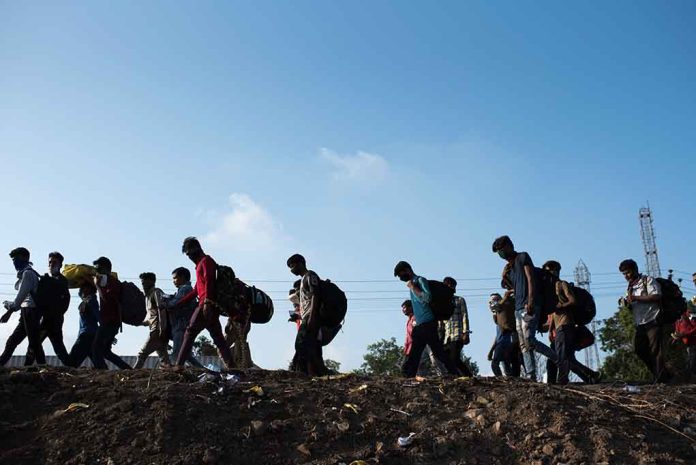 Joe Biden WALKS AWAY When Asked a Very Important Question
(RepublicanJournal.org) – On June 28, President Joe Biden held a joint news conference with Spanish Prime Minister Pedro Sánchez about a recent meeting with NATO in Europe. At the end of the speech, reporters asked the US leader to remark on the 51 dead migrants authorities found in the back of a truck in San Antonio, Texas, but Biden just turned and walked away without comment.
Watch: Joe Biden Flees When Asked About 51 Migrant Deaths in Texas https://t.co/DNGiUWW74w

— David Andrews (@Dave_USMC_ret) June 29, 2022
Later that day, the president released a formal statement about the tragedy. He sent his prayers out to people who lost loved ones and admitted the Department of Homeland Security (DHS) was still gathering information about the incident. Biden said it was essential to attack the criminal smuggling ring "preying on migrants" for profit.
The abandoned truck trailer contained immigrants, most of whom were from Mexico. The group was trapped inside the vehicle, in the Texas heat, after traveling around 160 miles past the southern border.
Governor Greg Abbott (R-TX) blamed Biden directly for the tragedy. He said the deaths were a direct result of the administration's "open border policies."
At Least 42 People Found Dead Inside Truck Carrying Migrants In Texas.

These deaths are on Biden.

They are a result of his deadly open border policies.

They show the deadly consequences of his refusal to enforce the law. https://t.co/8KG3iAwlEk

— Greg Abbott (@GregAbbott_TX) June 28, 2022
However, White House Press Secretary Karine Jean-Pierre confirmed that the US border is, in fact, closed. She also said the White House is focusing on identifying the criminals in this case and bringing them to justice.
Do you think the president is responsible for the migrants' deaths in Texas?
Copyright 2022, RepublicanJournal.org