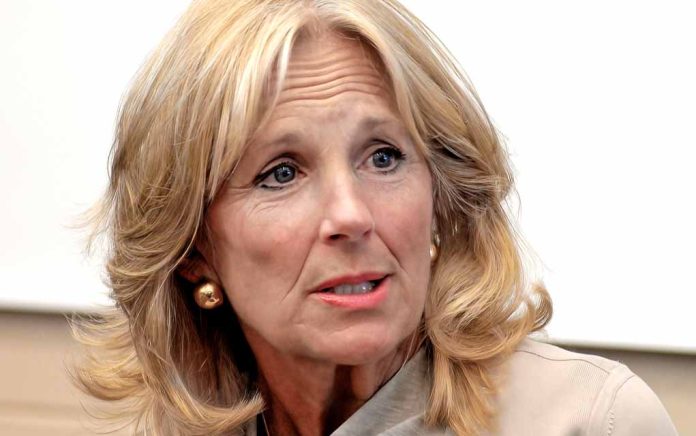 Jill Biden Makes RACIST Claim on Camera – Actually Says It!
(RepublicanJournal.org) – Liberals pride themselves on their sensitivity to racial issues and their opposition to any form of discrimination based on ethnicity. That makes it even more remarkable when senior Democratic Party figures pass offensive comments in public settings, such as when then-presidential candidate Joe Biden told Charlamagne Tha God that every single Black person in the United States should be voting for him. It looks like Joe isn't the only member of the Biden family given to such careless utterances.
On Monday, July 11, First Lady Jill Biden was giving a speech to progressive Hispanic voters in San Antonio, Texas, when she told her audience their diversity was "as unique… as breakfast tacos." During the same sentence, the first lady also mispronounced "bodegas" as "bogedas."
Jill Biden just said Hispanics are as "unique" as tacos.

This isn't Veep. Which White House speechwriter just won a bet for getting the First Lady to say something like this?pic.twitter.com/DXfJgYz0g5

— Steve Guest (@SteveGuest) July 11, 2022
Biden's remarks quickly drew backlash from the Hispanic community and elsewhere. The National Association of Hispanic Journalists (NAHJ) slammed the first lady with a tweeted response stating, "we are not tacos." Newly-elected Congresswoman Maya Flores (R-TX) also expressed her displeasure about what happened.
NAHJ encourages @FLOTUS & her communications team to take time to better understand the complexities of our people & communities.

We are not tacos.

Our heritage as Latinos is shaped by various diasporas, cultures & food traditions.

Do not reduce us to stereotypes. pic.twitter.com/KQIq5gwsht

— NAHJ (@NAHJ) July 12, 2022
Michael LaRosa, Jill Biden's press secretary, published a short apology on Twitter the day after her speech.
The First Lady apologizes that her words conveyed anything but pure admiration and love for the Latino community.

— Michael LaRosa (@MichaelLaRosa46) July 12, 2022
Do you think this was simply a poor choice of words, or does it convey a deeper insensitivity on the part of the first lady and liberal leaders in general?
Copyright 2022, RepublicanJournal.org