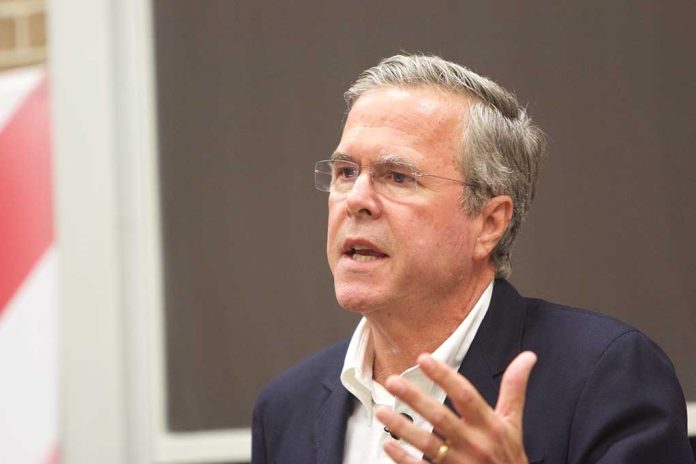 (RepublicanJournal.org) – Republican John Ellis "Jeb" Bush, who served as Florida's governor from 1999 to 2007, joined the chorus of Conservatives angrily defending Trump following news of his indictment. In an April 1 tweet, Bush called the move "very political," noting other officials who had decided against pursuing the case — one of whom, according to the former Sunshine State leader, had previously been District Attorney (DA) Alvin Bragg himself.
Bragg's predecessor didn't take up the case. The Justice Department didn't take up the case. Bragg first said he would not take up the case. This is very political, not a matter of justice. In this case, let the jury be the voters.

— Jeb Bush (@JebBush) April 1, 2023
Bush specifically pointed to "Bragg's predecessor," who dropped their case against Trump in 2019, and the Justice Department, which opted against pursuing charges in 2021. He said the current DA's decision to move forward was "not a matter of justice."
Trump currently faces 34 felony counts for allegedly falsifying business records to cover up bribe money he paid to adult film star Stormy Daniels and Playboy model Karen McDougal, according to Fox News. The former president has steadfastly maintained his innocence, insisting the legal action against him is purely political. He pleaded not guilty on April 4, and the court has scheduled him to return on December 4, 2023.
Jeb Bush briefly campaigned against Trump in 2016, Ballotpedia reported, but the former governor dropped out of the race after South Carolina's Republican primary vote left him trailing in fourth place. Trump has taken numerous stabs at the former rival. The Washington Post reported that the MAGA leader once said, "I don't think he has a clue," while also slamming Bush's business sense and understanding of the economy.
Regardless of their differences, Bush is standing in solidarity with Trump — with every other prominent conservative leader. PBS reported that Vice President Mike Pence and South Carolina Sen. Lindsey Graham are among the many outspoken critics of the former president's arrest. Even Trump's biggest potential rival, Florida's current governor, Ron DeSantis, has condemned the indictment as a "weaponization of the legal system," according to POLITICO.
Copyright 2023, RepublicanJournal.org