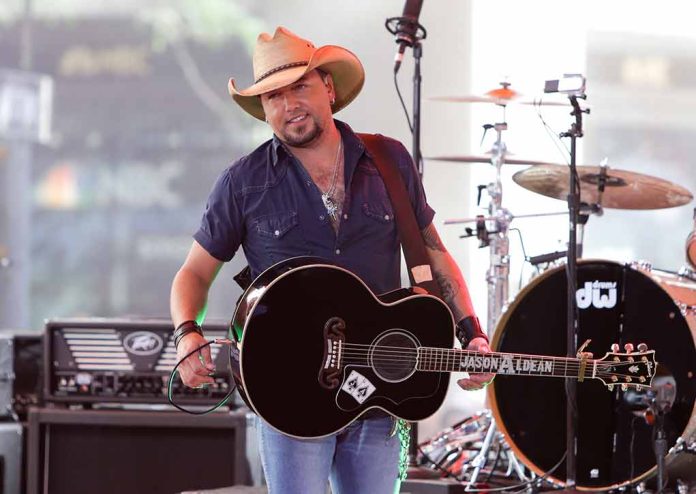 (RepublicanJournal.org) – Country music singer Jason Aldean's latest single has become the subject of a progressive backlash, with some people alleging the song is racist and promotes violence. The musician has spoken out about the controversy, denying all wrongdoing and accusing his critics of creating an inaccurate narrative. Amid the outrage and a dropped spot on Country Music Television, the song has skyrocketed to the #1 spot on iTunes.
Aldean's recent release, "Try That in a Small Town," is an homage to the days before the United States saw daily devastation in its headlines as well as an expression of the artist's desire to return to that small-town sense of community. The controversy stems not from the song itself but its music video, which includes snippets of news footage depicting the violence on US streets. Additionally, many of the singer's performance scenes take place in front of the Maury County Courthouse in Columbia, Tennessee, the sight of a historic black lynching. All elements combined, according to some listeners, the song promotes racism and vigilantism.
TackleBox, the company that produced the video, insisted the location is a popular one and has appeared in movies such as "Steppin' into the Holiday" and "A Nashville Country Christmas." It was also the filming spot for a music video for Runaway June's song "We Were Rich." The company adds that Aldean didn't personally choose the location.
Aldean defended his song on Twitter, telling liberals they've gone "too far" this time. He reminded viewers that he was among the artists performing at Route 91 in Las Vegas on Oct. 1, 2017, when a shooter opened fire on over 22,000 concert attendees, killing 50 and injuring more than 850 others.
In the past 24 hours I have been accused of releasing a pro-lynching song (a song that has been out since May) and was subject to the comparison that I (direct quote) was not too pleased with the nationwide BLM protests. These references are not only meritless, but dangerous.…

— Jason Aldean (@Jason_Aldean) July 18, 2023
The country singer added that he would never want to see that kind of suffering in any context and misses the days when communities took care of one another "regardless of differences of background or belief."
Copyright 2023, RepublicanJournal.org