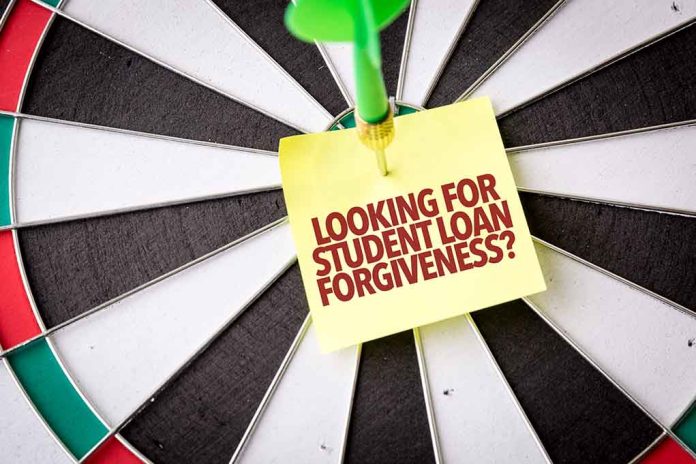 Student Loans Forgiven? Here's What To Expect
(RepublicanJournal.org) – Should the federal government forgive student loan debt? It's a question that has divided lawmakers and officials for years, and it's coming back into focus once again. Senior Congressional Democrats have repeatedly pushed for forgiveness, and President Joe Biden has expressed some interest in going along with the idea. However, it's far from simple.
A New Poll Shows Significant Support for Debt Cancellation
Earlier this month, Data for Progress conducted a poll in conjunction with the Student Borrower Center dealing with the general sentiment around student loan forgiveness. The study revealed that 63% of likely voters support the idea of forgiving at least some student debt.
Significantly, 58% of individuals who do not owe student debt personally supported debt forgiveness. That means it's not just selfish interest inspiring people who back debt cancellation.
Just 32% of respondents felt the government should avoid canceling any student debt. There was a significant partisan breakdown here; 8% of Democratic voters supported that idea, while the number for Republican voters was closer to 60%.
What Politicians Are Saying
Senate Majority Leader Chuck Schumer (D-NY), Senator Elizabeth Warren (D-MA), and Rep. Ayanna Pressley (D-MA) are among the most vocal advocates of student debt forgiveness. Last week, Schumer appealed to the president to cancel debts via executive action while speaking at a virtual event. He and other senior debt cancellation advocates would like to see Biden wipe away at least $50,000 per borrower in this way.
While campaigning for the White House, President Biden said he would back student debt cancellation initiatives. He was especially keen on doing away with the debts of students and graduates from minority backgrounds.
However, there is some debate as to whether Joe Biden actually has the power to get rid of debts via executive action. Many legal and Constitutional scholars believe the legislative basis for this will not stand up to scrutiny and that an act of Congress will be necessary to cancel student loans.
One figure which surprised many with her stance on this issue is House Speaker Nancy Pelosi (D-CA). Last year, the speaker said she did not believe Joe Biden had the legal authority to cancel student loans without Congressional action. She also said she was not keen on the idea of debt forgiveness in general, opining that it would be unfair on taxpayers who had never gone to college or taken out a student loan themselves.
What do you think? Should the federal government erase student debt, or would that be unfair to those who never benefited from a student loan?
Copyright 2022, RepublicanJournal.org