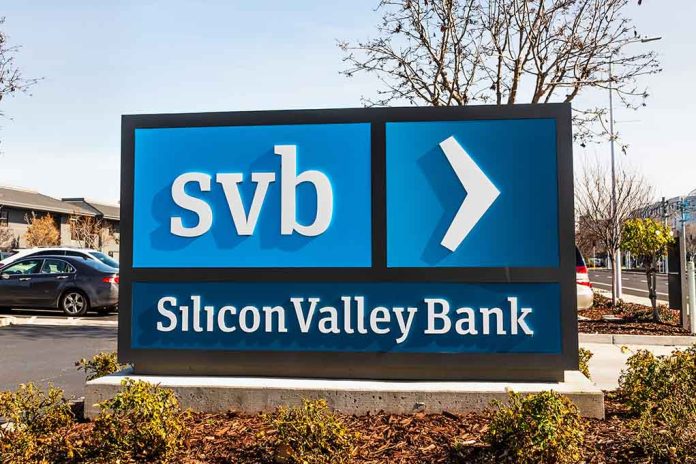 (RepublicanJournal.org) – In 1983, two men were playing poker when they decided to start a bank that would focus on providing services to new tech companies just getting their feet off the ground. The office opened soon after in San Jose, California, and it grew to be a worldwide entity known as the Silicon Valley Bank (SVB), with offices in China, Israel, and Canada. However, it recently collapsed after it had to sell some of its bond holdings, leading to customers pulling funds from the bank and the federal government taking it over.
In the wake of this event, many people blame former President Donald Trump for relaxing regulations that could have kept the SVB in operation.
Unpacking the SVB Collapse
According to the California Department of Financial Protection and Innovation, SVB had a grand "total assets of approximately $209 billion and total deposits of approximately $175.4 billion" at the end of 2022. However, it had billions of dollars held up in Treasury bonds, and when the Fed raised interest rates, the value of the bonds tanked. In addition, many customers withdrew funds from the bank as their tech companies struggled.
The bank opted to sell some bond holdings to have more available cash on hand, which created losses of $1.8 billion and triggered the ensuing downfall. On Friday, March 10, the government took possession of the financial institution.
Some People Blame Trump as Others Point Fault Biden
Yale Professor Howard Forman highlighted how President Donald Trump signed a law in 2018 that reduced the regulation of the SVB. He also shared a list of senators on both side of the aisle who supported the legislation:
Here is the list of Senators who voted to REDUCE the regulatory oversight of Silicon Valley Bank (SVB) in 2018, signed into law by then President Trump. Maybe ask them why they did this?

cc: @marcorubio @LindseyGrahamSC @RandPaul @MarkWarner pic.twitter.com/MNerJbgPxc

— (((Howard Forman))) (@thehowie) March 11, 2023
Forman refers to the minimizing of the Dodd-Frank Act, which former President Barack Obama signed after the Great Recession. The Trump administration changed that legislation to allow banks holding between $100 and $250 billion to be subject to fewer stress tests from the federal government.
On the other hand, many GOP lawmakers, such as Representatives Clay Higgins (R-LA), William Timmons (R-SC), and Mary Miller (R-IL), are blaming President Joe Biden and progressive Democrats for the recent banking catastrophe.
Democrats' reckless spending caused record inflation. The Fed is trying to get that inflation under control by raising interest rates. 

Not only will interest rates increase our debt service cost by $2T over the next 10 years, they are now bringing down banks. @SVB_Financial

— Congressman William Timmons (@RepTimmons) March 11, 2023
Other Banks Make Profits Off the Collapse
With countless companies and people trying to find a place to put the money they took out of SVB, other banks are winning big. Bank of America is now holding over $15 billion in deposits that it acquired as the California-based bank collapsed, and JPMorgan has minimized the time to open a new account to help people keep running their businesses smoothly.
Copyright 2023, RepublicanJournal.org