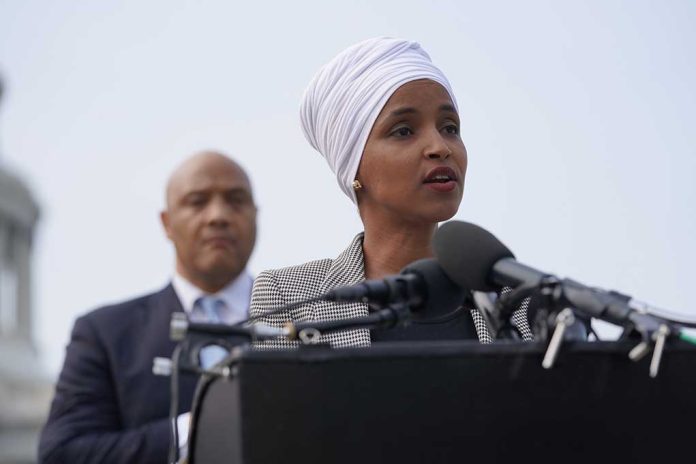 (RepublicanJournal.org) – Our neighbors to the north are currently embroiled in a fierce debate over vaccine mandates, specifically those that relate to truckers. A group of protesting truckers calling themselves the Freedom Convoy have blocked off large parts of Canada's capital city, Ottawa, causing major supply chain disruptions. The protesters have now found an unlikely supporter from the United States.
Rep. Ilhan Omar (D-MN) criticized journalists following up on individuals who made small donations to the truckers' cause. Many of these people donated anonymously, but their names became public when hackers breached GiveSendGo, the Freedom Convoy's platform to collect funds.
Omar weighed in on the situation in response to a now-restricted tweet from Ottawa journalist Alison Mah. Mah's post discussed a report her paper published on one Canadian citizen who donated $250 to the fund earlier this month. Omar slammed the tweet, saying it was an inappropriate story for any proper journalist to report.
Minnesota Rep.@Ilhan blasted journalists who are following up with individuals who made small donations to the Freedom Convoy in Canada whose identities were revealed following the hack of the @GiveSendGo charity platform.

— Washington Examiner (@dcexaminer) February 17, 2022
Ilhan Omar's response to this story will surprise many people who keep a close eye on US politics. The Minnesota lawmaker is one of the most radical members of a party that has consistently pushed for draconian mask and vaccine mandates.
Do you agree with Rep. Omar's stance on this issue?
Copyright 2022, RepublicanJournal.org