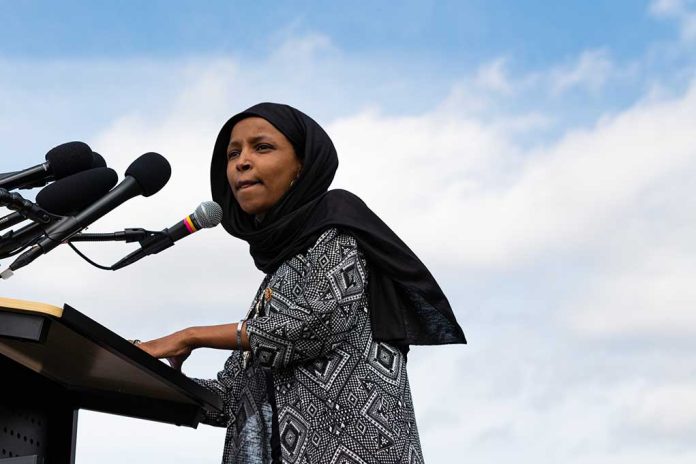 (RepublicanJournal.org) – News of Tucker Carlson's departure from Fox News has left even top political media sites like The Hill scrambling to determine what happened. The headlines have left MAGA conservatives fuming, but progressives are glad to see the popular host gone. Rep. Ilhan Omar (D-MN) claims the man was a daily danger to people.
Ilhan Omar Claims 'King of Hate' Tucker Carlson 'Risked Lives' Daily on Fox News Show https://t.co/sZiI8tlMzJ

— Mediaite (@Mediaite) May 3, 2023
Omar sat down with MSNBC's Mehdi Hasan on Tuesday, May 2, to discuss Carlson and other figures the representative believes have threaded dangerous ideologies into the American mainstream. Mediaite reported she was "both relieved and terrified" by the news that the anchor had parted ways with Fox News because there was no telling "where he might end up" next. The representative called him a "dangerous" man, claiming he threatened "many lives […] with his hateful rhetoric on a daily basis."
Carlson and Omar have traded barbs with one another for years. In 2019, according to another article from The Hill, the Fox News host used her as "living proof" of the many flaws in the US' approaches to immigration. He cast her as ungrateful for the opportunities this country has afforded her, saying she instead acted "enraged" and hateful toward the country that offered her family asylum when she was only 10 years old.
Carlson surmised that if this was the kind of person such programs added to the population, the system needed to change — possibly in ways that ensured its newcomers truly shared America's values. Still, he suggested we should be "grateful" to have her, calling her "a living fire alarm, a warning" that the US immigration system needed an immediate overhaul.
Omar, in turn, called Carlson "a racist fool," adding, "No lies will stamp out my love for this country." She claims her actions aren't hateful, insisting they're simply an effort "to make our union more perfect."
Copyright 2023, RepublicanJournal.org