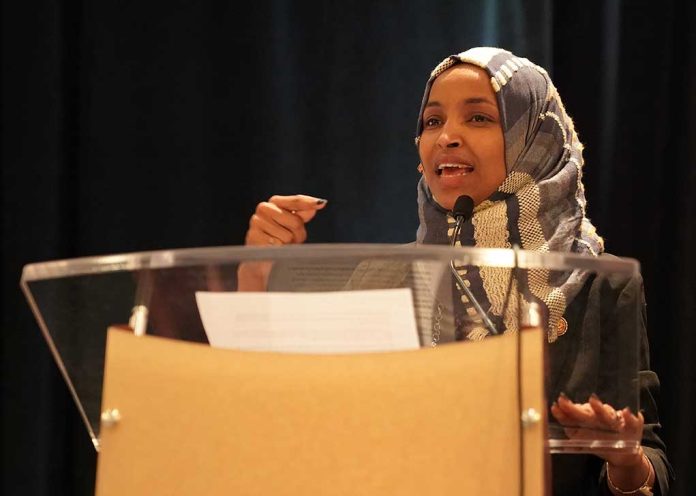 (RepublicanJournal.org) – Representative Kevin McCarthy (R-CA) has been making quite a few changes in the lower chamber since finally winning the election for Speaker of the House. He removed Representatives Adam Schiff (D-CA) and Eric Swalwell (D-CA) from the House Intelligence Committee and is hoping to rally his party to boot Representative Ilhan Omar (D-MN) from her spot on the Foreign Affairs Committee for her history of anti-Semitic comments. However, the Michigan congresswoman is now claiming ignorance for her previous rhetoric about Israel and Jewish people.
On Sunday, January 29, CNN aired its "State of the Union" segment with host Dana Bash, who spoke with Democrat lawmakers Schiff, Swalwell, and Omar. During the discussion, Swalwell accused new House Speaker McCarthy of "weaponizing his ability to commit this political abuse."
When confronted about her previous anti-Semitic comments, Omar reminded listeners she had apologized for her poorly chosen words when she posted a tweet in 2019 claiming Israel was "all about the Benjamins baby." While speaking with CNN's Bash, the representative insisted she "didn't understand" the words she'd used at the time "were trafficking in antisemitism." The Michigan progressive also received reprimands over a 2012 tweet, where she said, "Israel has hypnotized the world."
Omar claims she "was not aware" of various derogatory associations between Jews, hypnotism, and money. Given the lawmaker often asks Americans to educate themselves on the right "woke" words to use to be politically correct, her claims seem like a far stretch to many of her opponents.
Ilhan Omar Pleads Ignorance When Confronted With Allegations of Anti-Semitism: I 'Wasn't Aware' There are 'Tropes About Jews and Money' https://t.co/WLNj5bsp9w

— Mediaite (@Mediaite) January 29, 2023
Senator Ted Cruz's (R-TX) Special Advisor for Communications, Steve Guest, shared his opinion of Omar's claims on Twitter, calling them a bunch of BS.
Democrat Rep. Ilhan Omar claims on CNN that she was "not aware that the word 'hypnotized' was a trope" and "wasn't aware of the fact that there are tropes about Jews and money."

Give me a break. That's BS. pic.twitter.com/YesRd4RpNI

— Steve Guest (@SteveGuest) January 29, 2023
As Omar defends her position on the House Committee, it is up to her peers in Congress to determine if she keeps the spot. The GOP is currently rallying to get a majority of votes to remove her, but with the party's slim majority, even a few defectors could stop the motion.
Copyright 2023, RepublicanJournal.org