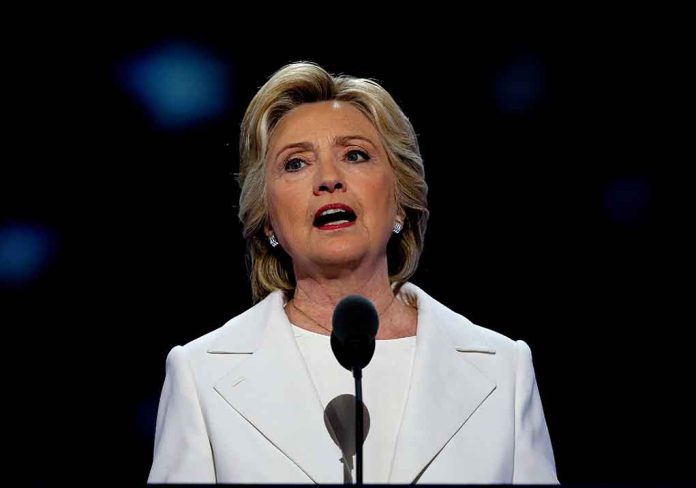 Hillary Clinton Suggests Republicans Are Planning To Steal The 2024 Election
(RepublicanJournal.org) – Hillary Clinton, once the Secretary of State and a failed presidential candidate, has been a vocal critic of Donald Trump and the Republican party as a whole. The Democrat recently spoke in a video on Twitter about the midterms and beyond. Clinton declared the GOP was already making plans to steal the 2024 presidential election.
*taps microphone* And now an important message from Secretary @HillaryClinton!

We're all focused on winning the midterms and defending our congressional majorities. That's critical. But we also must take the fight to MAGA Republicans at the state level: https://t.co/3JDygMc5T2 pic.twitter.com/HPNSvnqZsK

— Indivisible Guide (@IndivisibleTeam) October 21, 2022
The organization that posted the video, Indivisible, claims to be a "progressive grassroots movement" made up of millions of activists that are part of thousands of individual groups. They have three goals: elect liberal leaders, restore America's democracy, and defeat former President Trump's agenda.
During her remarks, Clinton asserted she was highlighting an issue that keeps her awake at night. The former Secretary of State claimed that while the upcoming midterms were a matter of importance, so was the 2024 presidential election. The Democrat noted her party needed to focus on the future election, claiming that Republicans were already doing so. She added that extremists on the Right already had a plan to steal the 2024 election in motion. The failed presidential candidate explained the Supreme Court was working toward giving state legislatures, which she claimed were largely conservative, the power to decide elections.
Despite her condemning Republicans for questioning the 2020 election, Clinton has repeatedly claimed the 2016 election was somehow rigged, even declaring that Russian President Vladimir Putin had something to do with Trump's victory. However, Clinton accuses anyone who says the 2020 election was rigged of being a Kremlin cuddler. Now, she appears to be setting up a similar argument in the event that a Republican wins the White House in 2024.
Copyright 2022, RepublicanJournal.org