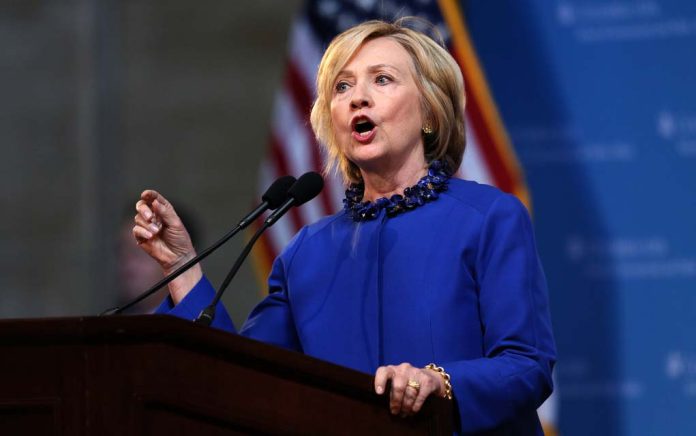 (RepublicanJournal.org) – Former First Lady Hillary Clinton has become a controversial figure for many Americans. The former secretary of state recently joined PBS for an interview. During the discussion, Clinton likened the US to countries such as Afghanistan, Iran, and Russia as she declared women's rights are under attack in America.
Hillary Clinton goes on PBS and compares pro-lifers to the Iranian regime, the Taliban, and Russian soldiers raping Ukrainian women. Of course, Christiane Amanpour agrees, "This pushback on American women's rights at the same time as you're trying to figure a way forward." pic.twitter.com/5GznH9uK01

— Alex Christy (@alexchristy17) December 2, 2022
The failed 2016-presidential candidate noted that "we have come a long way," adding now that same progress is under attack. Clinton mentioned that in countries like Ukraine, Afghanistan, and Iran, oppressors use rape as a "tactic of war." The former first lady then claimed that women's healthcare and bodily autonomy have come under attack by cultural groups and lawmakers in our own backyard.
A Catholic Bishop from the Diocese of Tyler, Texas, criticized Clinton's remarks, urging his followers to disregard what the former secretary of state was saying. Bishop Joseph Strickland asserted that Clinton was immoral and that her lies "needed to be silenced."
Please, please don't listen to this evil woman. Her lies and immorality need to be silenced for the good of humanity. https://t.co/fZhp6bljnK

— Bishop J. Strickland (@Bishopoftyler) December 3, 2022
When the former secretary of state says America is comparable to Afghanistan or Sudan, she's likely referring to the fact that states, like her home state of Arkansas, are now able to determine the legality of abortion thanks to the Supreme Court overturning Roe v. Wade. She mentioned that while the US is a modern economy it's on the same level as Afghanistan in terms of women's rights. Do you think she's right?
Copyright 2022, RepublicanJournal.org