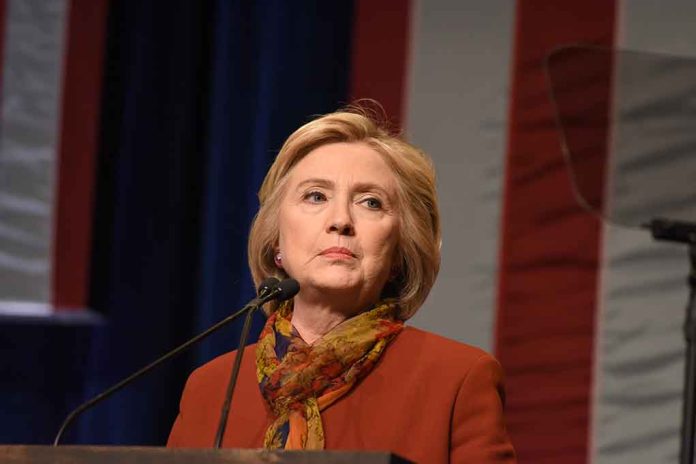 (RepublicanJournal.org) – Failed presidential candidate Hillary Clinton recently tried to get involved in the race for next year's Republican nomination. She decided to preempt Florida Governor Ron DeSantis's campaign launch by claiming his state is "unsafe." Unfortunately for her it's already blown up in her face.
Clinton Slams Florida Governor
On May 23, Clinton — who failed to win the Democratic presidential nomination in 2008 and was defeated by Donald Trump in the 2016 election — sent a tweet claiming DeSantis has made the state a threat for an amazingly wide range of people. She wrote "Ron DeSantis's ultra-MAGA Florida isn't safe for people of color, LGBTQ+ people, or even multi-billion [sic] dollar corporations."
Clinton probably aimed to get the maximum possible number of people angry at DeSantis just before he announced his plan to challenge Trump in the GOP presidential primary. DeSantis has become a boogeyman of the woke Left by opposing the teaching of critical race theory and gender theory in Florida schools. He's also had a high-profile feud with the Disney Corporation over its support for far-left policies. Clinton tried to exploit this by adding screenshots of two news articles to her tweet. One mentioned DeSantis's quarrel with Disney; the other referenced a "travel advisory" from the NAACP warning black people not to travel to Florida (although NAACP chairman Leon W. Russell lives near Tampa).
In the event her plan completely backfired. Most of the criticism of DeSantis came from pro-Trump Republicans, who mocked him for announcing his candidacy on Twitter. Clinton's criticism just got ridiculed.
Backlash Hits Hard
Conservatives didn't take long to hit back at Clinton's claims. Journalist and author Clay Travis asked, "This is really the attack left wingers are going with?" He pointed out that, since DeSantis became governor, more than a million people have moved to Florida. He questioned whether anyone seriously believes the state isn't safe for minorities. On the same theme, Mark Hemingway of RealClearInvestigations said nobody but "completely deluded ideologues" believes it — and even they know deep down it isn't true. Another Twitter user mocked Clinton for "always [having] her hand on the pulse of Americans" by worrying about billion-dollar corporations. Mollie Hemingway of The Federalist simply said, "Oh man is she bad at this."
Clinton, perhaps realizing her tweet was backfiring, locked replies. DeSantis's press secretary promptly mocked her for that — but what choice did she have? Yet again she's misread the mood of the country, just like she did in 2016.
Copyright 2023, RepublicanJournal.org