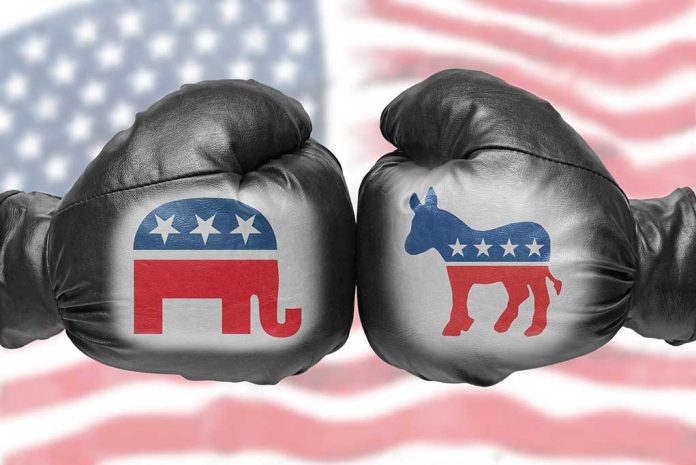 Democrat Makes Wild Claim About Republicans And Interracial Marriage — Instantly Regrets It
(RepublicanJournal.org) – Following the Supreme Court opinion leak regarding the future of Roe v. Wade on May 2, some Americans alleged Republicans wouldn't stop at banning abortions across the nation. Representative Eric Swalwell (D-CA) tweeted that the Right also wants to "ban interracial marriage," an accusation GOP leaders say is simply untrue.
The Republicans won't stop with banning abortion. They want to ban interracial marriage. Do you want to save that? Well, then you should probably vote. https://t.co/MRytdsjUBP

— Rep. Eric Swalwell (@RepSwalwell) May 3, 2022
Representative Byron Donalds (R-FL) and congressional candidate Wesley Hunt (R-TX), both black men, fired back at Swalwell for his harsh words. Hunt accused the California Democrat of race-baiting, while Donalds accused him of gaslighting.
Black Republicans slam Swalwell for saying GOP oppose interracial marriage: 'I'm in an interracial marriage' https://t.co/ECfOKKtlq6

— Fox News (@FoxNews) May 4, 2022
A Gallup poll conducted in September 2021 showed that 94% of Americans approve of interracial marriage, up from 87% in 2013. Considering most US citizens have no problem with this type of marriage, Republicans believe Swalwell's words are merely political rhetoric meant to rile up the base before the midterm elections. In fact, the California legislator included a call to vote in his original tweet, giving a bit of weight to the Conservative's suspicions.
Even if the Supreme Court overturns Roe v. Wade and leaves abortion decisions to the state, there is no record of any Republican attacking interracial marriage or any other similar issue. The SCOTUS is expected to hand down a final ruling in June.
Copyright 2022, RepublicanJournal.org