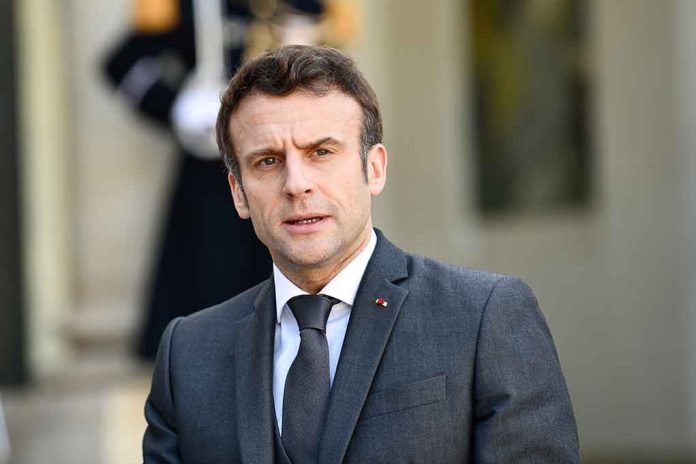 (RepublicanJournal.org) – On April 8, French President Emmanuel Macron sent shock waves through Washington when he told POLITICO he thought European countries should not "take [their] cue from the US agenda" on Taiwan. Macron's statement comes at the heels of a three-day visit to China, where he met with the nation's communist leader and discussed Europe's position on rising tensions in the Pacific region. The GOP is furious at the sudden neutral stance, and Republican lawmakers are slamming Macron's betrayal.
"Embarrassing… disgraceful… and very geopolitically naïve."

US Republicans are hitting back against French President Emmanuel Macron's comments on Taiwan. https://t.co/UyMiXyWHmd

— POLITICOEurope (@POLITICOEurope) April 11, 2023
Whatever discussion occurred between Macron and Chinese President Xi Jinping during their six-hour meeting, it seemed to have left the French president with wild ideas of Europe becoming the world's third superpower. He questioned whether intervening in Chinese affairs was in his and his neighboring countries' best interests, asking why anyone would expect the US to be effective in defending Taiwan when its military efforts to assist Ukraine against Russia have been weak at best.
Macron insisted Europeans must not "become followers on this topic" lest they provoke "a Chinese overreaction." He also pressed against European dependence on US weapons, energy, and currency, referring to the foreign belief that American leaders have created a "weaponization" of the US dollar in its use of economic sanctions. The French president insisted that other countries were at risk of being reduced to "vassals" to either China or the United States if they didn't find the means "to finance [their] strategic autonomy."
US conservatives have blasted Macron's statements. Sen. John Cornyn (R-TX) took to Twitter to question Macron's opposition to Russia's invasion of Ukraine while remaining neutral on Taiwan. Sen Marco Rubio (R-FL) also shared his concerns on the social media outlet, condemning the French president's assertion that European nations should not get involved in conflicts that don't directly affect them. In addition, the Florida senator took the opportunity to ask other European leaders if Macron spoke for all of them, adding, "Is Macron now the head of Europe?"
If so, according to Rubio, the US might need to make some changes of its own — starting with how it supports France.
Copyright 2023, RepublicanJournal.org