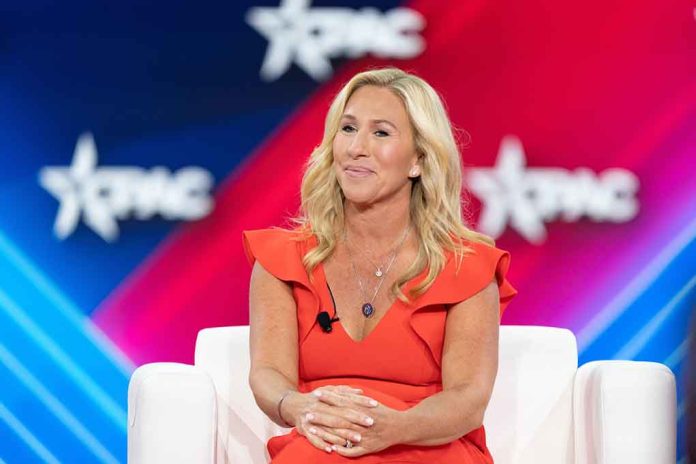 (RepublicanJournal.org) – As a young lady, Marjorie Taylor Greene (R-GA) worked in her family's company, learning the art of entrepreneurship and business management. She eventually used these skills to purchase her own construction and renovation business and launched a booming CrossFit gym in her home state of Georgia.
Encouraged by her love for her family, children, country, and Christian faith, Greene ran for and won a seat in the US House of Representatives starting in January 2021. Even so, during her campaign, and now as a congresswoman, she has often publicly shared theories that are unproven, causing many of her peers to reject her. But, one GOP congressman is now coming to her defense.
On Sunday, January 22, Representative Michael McCaul (R-TX) appeared on ABC's "This Week" with host Martha Raddatz. During the discussion, Raddatz asked the congressman if Greene, who once questioned if a plane actually hit the Pentagon on 9/11, should be on the Homeland Security Committee.
McCaul highlighted that he chaired the committee and called Greene's accusations a "conspiracy theory" that he has had to "debunk." However, he highlighted that that particular claim of Greene's occurred back in 2018 and emphasized that "she has matured," "wants to learn," and has hopefully become a team player.
Asked if Rep. Marjorie Taylor Greene should be on Homeland Security and Oversight Committees after previously embracing 9/11 conspiracy theories, GOP Rep. McCaul says, "She has matured, I think. She realizes she doesn't know everything." https://t.co/nvA1rMizYa pic.twitter.com/b6RXExFAPZ

— This Week (@ThisWeekABC) January 22, 2023
McCaul used his platform to propose that more senior members of Congress should bring Greene under their mentorship and educate her about conspiracy theories. He also reiterated that she is an elected member of Congress, so she is not going anywhere for a few years. When confronted with whether he would have made the choice to nominate Greene to the Homeland Security or Oversight Committees, McCaul quickly noted that he is neither the chair of the groups nor the House Speaker, so such an answer does not matter.
McCaul, unlike many others in the GOP party, chose to stand up for Representative Greene. Do you think her peers should defend her over her claims about conspiracy theories?
Copyright 2023, RepublicanJournal.org