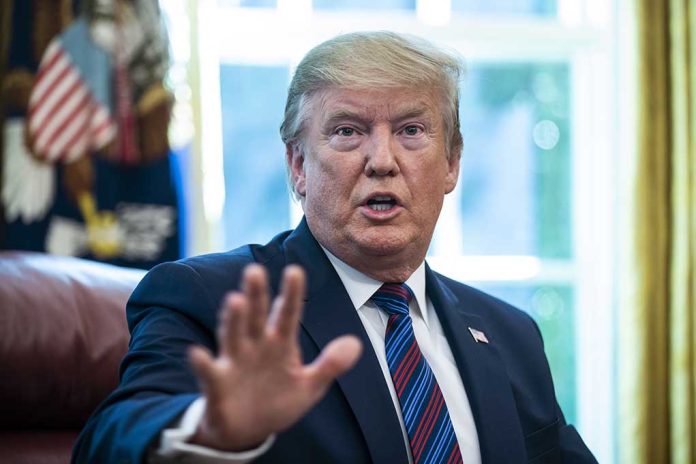 (RepublicanJournal.org) – Protests seem to have become more commonplace in recent years, whether at local school board meetings or colleges and universities, and the variety of issues people choose to demonstrate against has also grown. One university recently labeled a guest speaker as a higher risk because her last name is Trump, even though she has no relationship to or with the 45th president. The school wondered if a disruptive protest would break out due to her name.
Speech First Requests Cherise Trump Purchase Event Insurance
According to The Washington Free Beacon, Trinity University, a private Catholic University in Washington, DC, recently asked Cherise Trump, the executive director of the nonprofit Speech First, to buy event insurance because her last name created an "elevated risk" that could lead to a "disruption." These words came from Jennifer Adamo, Trinity University's director of risk management, in a February 20 email, in which she acknowledged that she knew the guest speaker was not related to former President Donald Trump.
Trump decided to purchase a $76 insurance plan for her free speech event scheduled for March 3, although she told the Free Beacon that the school should prioritize an "environment that encourages its students to hear differing ideas without turning to mob violence." She also highlighted that this move makes it seem like the school does not think its students can use a search engine to determine whether or not the speaker is actually related to the controversial ex-president.
This Request Stands Out From Previous Ones Made to Speech First
Speech First President Ellis Jacoby told the Free Beacon that the nonprofit has hosted events on much more controversial topics than free speech, like critical race theory and immigration. Yet, with those events, speakers were not asked to purchase the special event insurance. He emphasized that Trinity's event request form made him write down anything that could pose a risk to the talk in his assessment, to which he wrote "protests." There was no option to leave it blank.
Trump believes it was not the topic of free speech that pushed her to spend over $75 on insurance. Instead, it was her last name, which she changed in 2017 to reflect her husband's, that caused the issue.
Free Speech and College Campuses
For decades, higher education has been moving further and further to the political Left, although it still often welcomed opposing viewpoints and discussions. Apparently, colleges and universities that allow such discourse are now few and far between. Adam Hoffman, a senior at Princeton University, believes that this progressive shift is actually making students who do hold conservative viewpoints while attending school cling even harder to their political beliefs.
Copyright 2023, RepublicanJournal.org