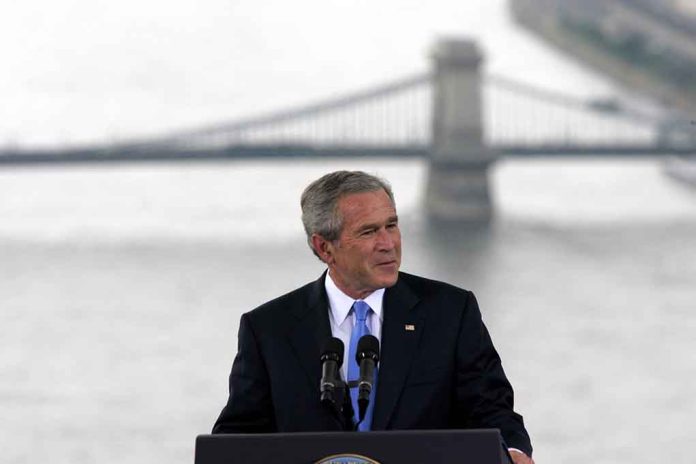 George W. Bush Endorses Anti-Trump Candidate
(RepublicanJournal.org) – "MAGA Republicans" did well in the 2022 primaries. Every single GOP candidate for the US Senate enjoys former President Donald Trump's endorsement — except one. Conservatives in Colorado chose moderate Joe O'Dea to take on incumbent Democratic Senator Michael Bennet in November. O'Dea might not have Trump in his corner, but he does have former President George W Bush.
George W. Bush to fundraise for Colorado GOP Senate candidate Joe O'Dea https://t.co/xAkzt7Cu1T

— Herb Scribner (@HerbScribner) October 4, 2022
In about two weeks, Bush will make a rare campaign stop to do some fundraising for O'Dea. Backing candidates who hold no favor with Trump is nothing new for the Texan. In Georgia, he came out for Brian Kemp, and in Montana, he stumped for Liz Cheney. There is no love lost between either of those candidates and the 45th POTUS. Endorsing O'Dea could signal that Bush won't get behind Trump in 2024.
As for O'Dea, he is solidly on the side of the RINO. He told Chuck Todd on "Meet the Press" that he doesn't want another Trump run for the White House. He believes the GOP has a lot to offer in the way of good, solid candidates and plans to campaign for them. His only criterion seems to be that they don't subscribe to Trump's brand of politics.
The race in Colorado is more competitive than expected but still leans to the Left. President Joe Biden won the state by 14 points, so a close race, even one ending in a loss, still has serious political ramifications for 2024.
Copyright 2022, RepublicanJournal.org