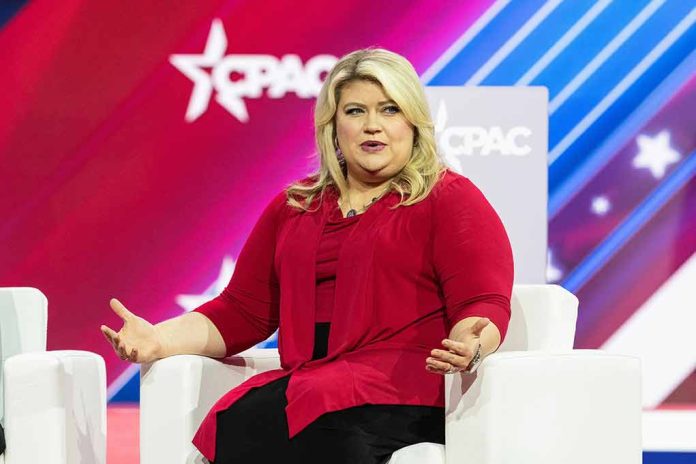 (RepublicanJournal.org) – House Energy and Commerce Committee Democrats walked out on a recent hearing that challenged the progressive belief that children suffering from gender dysphoria benefit from sexual reassignment. Florida Republican Rep. Kat Cammack tore into her left-wing colleagues during a June 24 interview on "Fox and Friends," calling their views "crazy."
The conflict stems from HR 3887, or the Children's Hospital GME Support Reauthorization Act of 2023, which would amend Title III of the Public Health Service Act. The legislation proposes cuts in funding for hospitals that provide "gender-affirming care," such as puberty blockers, prescription hormones, and surgical intervention, to people under the age of 18. Cammack and other conservatives in Washington argue that such "treatments" are not peer-reviewed, meaning no real evidence exists that they've helped anyone.
Democrats don't seem to like that idea, with many apparently clinging to the belief that altering children — some of whom haven't even gone through puberty — is okay. They claim the interventions save lives, but they're also advocating permanently altering (and in some cases, permanently scarring) people who are arguably too young to make those kinds of decisions for themselves.
Fox News interviewed a "detransitioned" individual who claimed he was confused when he succumbed to gender dysphoria and ultimately mutilated his body. In hindsight, the young man admitted he was embarrassed about his homosexuality and saw transitioning as the solution. After years of hormone blockers and supplements, starting at 13 years old, he had himself castrated when he was 19 — a move he now regrets. He claims he never would have pursued gender reassignment if he hadn't been exposed to so much LGTBQ propaganda. Lawmakers like Cammack want to spare other children from suffering similar fates.
Rep. Dan Crenshaw (R-TX), who introduced HR 3887, has also been vocal about the issue. During the heated House committee debate, he brought up research that backed conservative concerns over the long-term effects of gender reassignment and the need to exclude children from said intervention. He cited, as per a previous Fox News release, that the British Journal of Medicine, the Journal of the Endocrine Society, and the American Academy of Pediatrics each independently concluded there was no evidence the practices offered any benefit to young patients.
Copyright 2023, RepublicanJournal.org