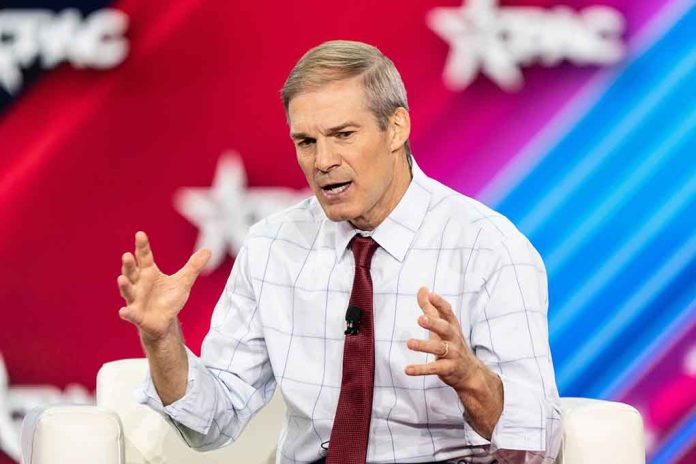 FBI Denies Firing Conservatives, Responds to Rumors
(RepublicanJournal.org) – Rep Jim Jordan (R-OH) believes Democrat investigations are politically motivated witch hunts that extend outward to federal law enforcement, specifically the FBI. Beginning before the midterm elections, the congressman released a whistleblower report and sent letters to agency heads demanding answers. He made it clear that his party would likely take over the House of Representatives — and when they did, it would be time to investigate the investigators. Last Thursday, the FBI responded.
FBI denies purging conservative employees in letter to Jim Jordan https://t.co/H3Rft5FwZ7

— Fox News (@FoxNews) December 1, 2022
On November 1, Jill Tyson, an assistant director from the agency's Office of Congressional Affairs, sent a letter to Congressman Jordan directly responding to allegations that agents lost their jobs based solely on their conservative views. That concern was one of many accusations levied at the FBI by the future chair of the House Judiciary Committee. The letter, obtained by Punchbowl News, as reported by Fox News, firmly rejected the notion.
First, Tyson made it clear that any and all whistleblower complaints, which are protected disclosures, are as serious as any misconduct allegation and require the agency's full attention. She then moved on and stated the bureau's stance on the accusation of political repercussions against right-leaning employees.
According to the assistant director, to use an example of a single person or even a small group of people as evidence of widespread bias is unfair to the 38,000 FBI employees "who perform their jobs objectively, rigorously, and with professionalism." She went on to rebuke the allegations as contrary to the "collective judgment and effort of our workforce."
Jordan has already asked for testimony from top officials, including Attorney General Merrick Garland, when the 118th Congress gavels in on January 3, 2023.
Copyright 2022, RepublicanJournal.org