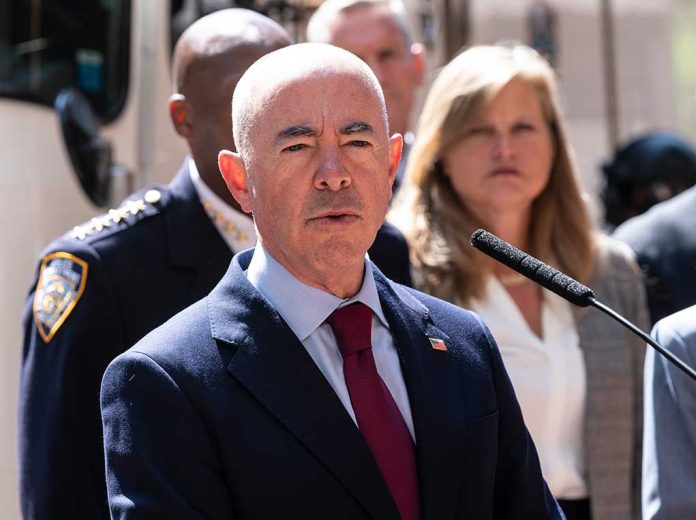 FBI Fires Back After Mayorkas Claims Border Is "Secure"
(RepublicanJournal.org) – Despite the massive influx of immigrants flooding over the southern border, the Biden administration acts as if nothing's happening. Meanwhile, Americans are suffering from the federal policies affecting border states. The FBI and the Department of Homeland Security (DHS) recently got into an argument over how secure the country really is.
Mayorkas maintains 'border is secure' despite record crossings, FBI sees 'significant criminal threats' https://t.co/WuTFxia8em

— Fox News (@FoxNews) November 15, 2022
Alejandro Mayorkas, DHS Secretary, recently sat down in front of the House Committee on Homeland Security, alongside FBI Director Christopher Wray, to answer questions regarding border security. The two heads of their respective departments couldn't seem to agree on the matter.
Representative Dan Bishop (R-NC) asked Mayorkas if he continued to maintain that the border was secure — to which the secretary insisted he did. Mayorkas added his department was working tirelessly to improve security. The secretary attempted to expand on his statement, but Bishop interrupted him, asserting he just wanted to clarify. The Republican then declared he felt Mayorkas was denying reality and asked the FBI director what his feelings on the situation were.
Wray's response stood in stark contrast to the DHS secretary's. The head of the FBI admitted that he only had minimal knowledge of the border's security through the eyes of the bureau. Still, he drew from his perspective and experience when he expressed serious threats were coming across the border in the form of criminal activity. The FBI director explained that criminal organizations sent their drugs into the US, where gangs then distributed them on American streets, stoking the flames of violent crime. Wray mentioned one incident where authorities discovered enough fentanyl to kill everyone in the state of Pennsylvania in a single vehicle.
The difference in opinion couldn't be any clearer. The question is which one of the two is perceiving the crisis in the correct manner. Is it Mayorkas, who says the southern border is secure? Or is it Wray, who believes there's a serious threat to the American people?
Copyright 2022, RepublicanJournal.org