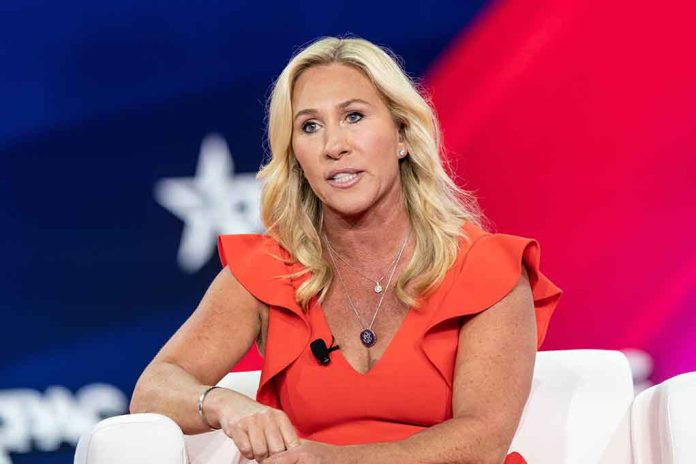 (RepublicanJournal.org) – Since the midterms and the dismal performance by Republicans, there's been infighting within the GOP. Conservatives are turning on one another as they attempt to hold someone responsible for the disappointing midterms. Representative Marjorie Taylor Greene (R-GA) has recently come under fire from some of her closest supporters after breaking from the far-right.
Going Her Own Way
After being elected in 2020, Greene quickly gained prestige in the GOP, especially among the party's more extreme figures. This relationship with the far-Right is what caused the congresswoman to become one of the most controversial figures within the Republican party. Greene was once close to Nick Fuentes, who is the leader of a white nationalist group, and the likes of Laura Loomer, who unsuccessfully ran for Congress in the Sunshine State.
Republicans are set to gain control of the House come January, and Greene is looking to gain power and influence. The congresswoman isn't hearing any cheers from her former far-right friends. Instead, Greene is receiving pushback for seemingly backpedaling and backing the current congressional leadership.
Another source of dismay among the far-Right is the fact that Greene is throwing her support behind Representative Kevin McCarthy (R-CA) in his bid to succeed Nancy Pelosi (D-CA) as Speaker of the House. Some legislators see the congresswoman's decision to back McCarthy likely as a betrayal to her far-right connections as they expected her to back his challengers. One of Greene's most prominent allies, Representative Matt Gaetz (R-FL), supported the idea of challenging McCarthy, but the Georgia Republican didn't like the idea.
The Right Move
Newsweek mentioned that Alex Patton and Jay Townsend, both Republican strategists, believe the congresswoman struck a deal with the California conservative. He offers her more power, and in return, she supports him in his attempt to become the House Speaker.
A University of Miami political science professor, Joseph Uscinski, told Newsweek the congresswoman's decision to break away from her connections to back McCarthy and other top House GOP officials shows the awkward position she's in. The professor explained that Greene has more support outside of the Capitol than she does inside.
Uscinski noted the congresswoman doesn't have a large collection of allies. The professor added that people like Fuentes and Loomer don't have an influence in Congress, explaining if she's looking to "get things done," she'll need someone like McCarthy on her side. Uscinski asserted it's the right move for Greene to build relationships with individuals "that can help her in Congress."
Copyright 2022, RepublicanJournal.org