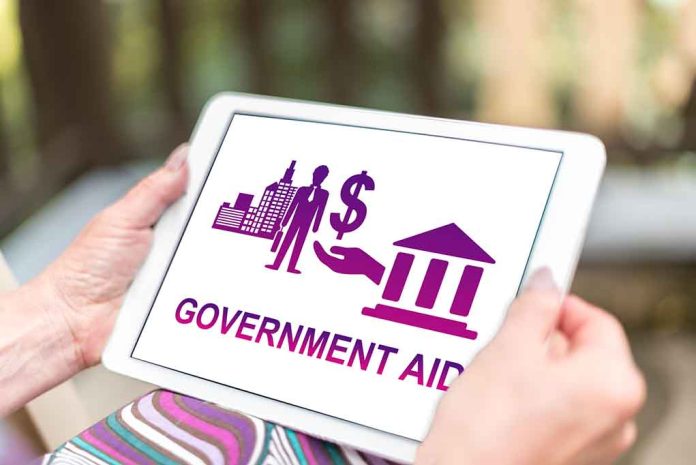 Free Guide On How To Find Help During Hard Times
(RepublicanJournal.org) – Life can come at us fast, and even when we think we've prepared for contingencies, mother nature or a natural disaster could throw us for a loop. Many people are feeling overwhelmed. After two years of dealing with pandemic restrictions, we emerged into supply chain issues that cascaded into inflation, and it seems we're on a collision course with a recession. Lots of people are simply at their limit. Bankrate found that only 44% of people surveyed would be able to cover an unexpected $1000 expense.
Still, even in the midst of hard times, there's good news because help is available. On the Benefits.gov website, people can find programs to help them with situations like job loss, food insecurity, natural disasters, housing needs, or even energy bills that are too high to afford.
How To Find Programs to Help
Benefits.gov includes more than 1,000 programs, including grants, loans, and tax credits to provide assistance, relief, or incentives to help people bootstrap their way out of problems or into opportunities. Organized as a searchable database that also coordinates with many state agencies, users can search by category or agency or use a comprehensive tool called the Benefits Finder.
The Benefits Finder uses a comprehensive questionnaire that doesn't require identifying information. It will ask about birthdate, gender, the state where the respondent lives, and the number of members in the household to better identify programs that might provide help. The Benefits Finder locates programs for which a person or family might qualify based on the responses to the questionnaire and helps the respondent begin submitting applications to the appropriate agencies.
Types of Assistance
Many different programs might assist individuals or families struggling to make ends meet.
Unemployment Assistance
The Department of Labor (DoL) partially funds unemployment insurance as a federal program, but each state administers it. To obtain unemployment assistance, applicants should contact their state unemployment agency.
Supplemental Nutritional Assistance Program (SNAP)
People or families experiencing food insecurity because they must choose whether to buy food or pay for housing, utilities, medical care, or childcare can apply for SNAP benefits, formerly known as food stamps. The US Department of Agriculture (USDA) funds this federal program and states administer it locally. To apply, applicants should contact their state SNAP program coordinator.
Medicaid and Children's Health Insurance Program (CHIP)
The US Health and Human Services Department (HHS) channels federal funding to Medicaid and the Children's Health Insurance Program (CHIP), and states administer the programs locally. These assistance programs help low-income individuals, providing medical assistance they probably wouldn't receive otherwise. Medicaid has become the largest healthcare fund in the US and has transformed the way healthcare works.
States received the option through the Affordable Care Act (ACA) to create a Basic Health Plan (BHP) insurance program to provide affordable insurance coverage with affordable premiums for low-income families and individuals. Coverage and benefits are the same as those required for other ACA plans. Many states opted not to create BHP plans, but notably, New York and Minnesota have.
Children receive routine medical exams and care through the CHIP program until they are 18. Each state sets eligibility requirements for CHIP and Medicaid programs, but access to these programs makes routine and emergency care a reality for most patients in these programs.
To find out whether they qualify and to apply, people should contact their state Medicare or CHIP administrator.
Housing Choice Voucher Program
Families can choose where they want to live using the housing choice voucher program as long as it meets the program guidelines as determined by state public housing agencies (PHAs). This federal program, funded through the Housing and Urban Development Department (HUD), provides vouchers directly to landlords. If residents choose a property costing more than the value of the voucher, they become responsible for paying the difference.
The flexible voucher program allows much greater choice in where families live than the traditional Section 8 housing. While participants typically use vouchers for rental properties, they can also use them toward purchasing a home. Residents can use housing vouchers for:
Apartments
Duplexes
Townhouses
Single-family homes
Applicants must meet the eligibility requirements to qualify. People must apply through their local PHA, which administers the program.
Low Income Home Energy Assistance Program (LIHEAP)
The Low Income Home Energy Assistance Program (LIHEAP) is another federally-funded and state-administered assistance program partnering with the Department of Energy (DOE) to provide financial relief to eligible households and individuals to make energy-related home repairs and help with energy assistance costs for low-income families and individuals. The program offers assistance with challenges including:
Energy-related home repairs
Weatherization
Home energy bills
Energy crises
Each state implements the program, meaning eligibility requirements might differ by location. To learn more about LIHEAP eligibility requirements, applicants should reach out to tjeir state's program coordinator.
There are so many more programs applicants can learn about and ways the Benefits.gov website might be able to assist people, from educational benefits and financial assistance to home loans and repair programs. Take some time to explore the help that might be available and look into programs to make life a little easier and more secure.
Copyright 2022, RepublicanJournal.org