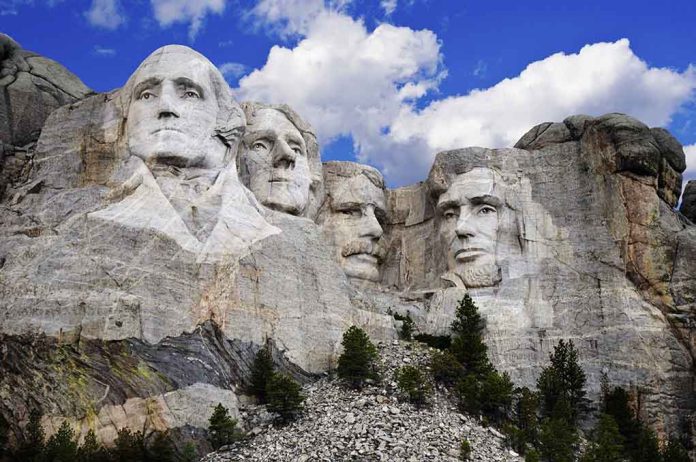 Mount Rushmore UNDER FIRE – Look What Leftists Are Doing Now!
(RepublicanJournal.org) – Sculptors completed Mount Rushmore out of granite rock in South Dakota's Black Hills National Forest in 1941. Although visitors travel many miles to see the iconic structure every year, an analyst for ESPN, Jalen Rose, demanded people stop saying its name, which he finds "offensive."
The former sports player said the monument of previous US presidents is situated "on top of dead bodies" and built on land stolen from Native Americans. He claimed everyone should be offended like him.
'Mount Rushmore' is 'offensive' because it was built 'on top of dead bodies' says ESPN's Jalen Rose | Just The News https://t.co/URM3JGSxud

— Just the News (@JustTheNews) August 8, 2022
Rose said calling the sculpture Mount Rushmore is the same as using Washington Redskins and Cleveland Indians for professional sports teams. Given an uproar resulted in those teams deciding to change their names, the analyst believes officials should do the same for the faces carved in South Dakota. If that happens, will visitors need to change the official nickname for the region?
Mount Rushmore State Governor Kristi Noem (R) reacted to Rose's call.
The four men on Mount Rushmore were amazing, flawed American leaders who helped make America what it is today — the greatest country the world has ever known.

To the woke leftists obsessed with attacking these leaders, I've got news for you: not on my watch. https://t.co/gSQfNlLlzb

— Kristi Noem (@KristiNoem) August 6, 2022
The politician said the men carved in the rock were great leaders and that the name will remain the same as long as she's in charge.
Do you agree with the governor, or do you feel ESPN's analyst has a point? Is this another case of the left finding excuses to be offended?
Copyright 2022, RepublicanJournal.org