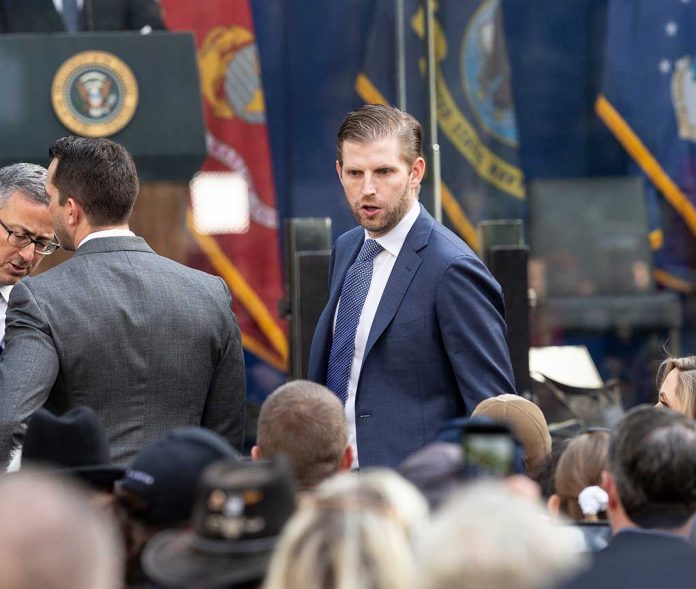 (RepublicanJournal.org) – After news of the long-anticipated indictment against former President Donald Trump broke, people and politicians across the board began responding to the issue. Stormy Daniels celebrated the news along with progressives, while many conservative lawmakers called the move political persecution and used it as a prime example of how the Left has turned the US justice system into a weapon. Eric Trump, son of the 45th US president, recently shared his own reaction to his father's indictment.
On Saturday, April 1, Eric Trump told Fox News' Sean Hannity that he was flying when the announcement hit, confirming a criminal indictment against his dad. He told the conservative news host that "people were coming up to [him], giving [him] hugs" and providing the former First Son "unbelievable" support. He went so far as to say the United States has "literally become a banana republic."
Eric Trump:

"I have to tell you. I was on a plane when this whole indictment broke. People were coming up to me, giving me hugs."pic.twitter.com/fxMp1cqPJC

— Citizen Free Press (@CitizenFreePres) April 1, 2023
Eric Trump, who is also the executive vice president of the Trump Organization, highlighted that progressives are campaigning "on the promise to take down a person" rather than an actual political agenda. He called such elected officials "evil" and "wicked." Eric Trump also touched on how the George Soros-funded District Attorney Alvin Bragg is spending so much time digging up charges against his father, yet he is also allowing "so much homeless and crime" in the city.
Hannity pointed out that poll numbers rose for President Trump, who is a top 2024 GOP presidential candidate, after the FBI raided his Mar-a-Lago estate last summer. The indictment could cause a similar response among American voters, as the 2024 White House contender already received millions in donations and new volunteer applications in the wake of the news. Donald Trump's attorney Joe Tacopina joked on a Monday, April 3 appearance on Newsmax's "The Balance" that the "new campaign strategy" is to "get yourself indicted and you raise a lot of money."
Copyright 2023, RepublicanJournal.org