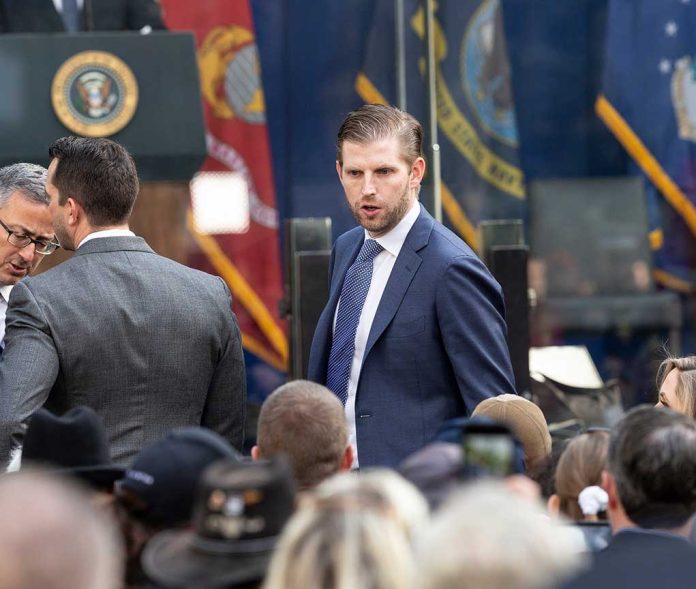 Eric Trump Receiving PRIVATE Offers – The People Know!
(RepublicanJournal.org) – On August 8, the FBI executed a search warrant on former President Donald Trump's home in Palm Beach, Florida, stirring up controversy across the nation. Following the raid at Mar-a-Lago, the previous leader's son, Eric Trump, said random citizens have been offering their heartfelt apologies for the government's actions against his father. One couple even tried to buy him and his wife dinner to show their support.
'You Wouldn't Believe the Energy Out There': Eric Trump Claims People Tried to Buy His Dinner 'To Apologize For What The United States Government Has Done to Our Family' https://t.co/2udj54vETH

— Mediaite (@Mediaite) August 16, 2022
The younger Trump told host Sean Hannity that he and his family have been through a lot over the years, but he's never seen the country this angry before. He said the outrage led to a spike in popularity and fundraising for the former commander in chief. In fact, the guest said he's never seen such "energy out there."
Eric Trump stated Americans have taken notice of the "weaponization" of the FBI, and they aren't fooled anymore by the constant attacks against the former First Family. He isn't alone in his thoughts, either. Many Republicans spoke out against the bureau after the raid, relaying the same allegations of corruption inside several federal agencies.
Do you think the FBI has been compromised, or do you believe its investigation into the 45th president is justified?
Copyright 2022, RepublicanJournal.org