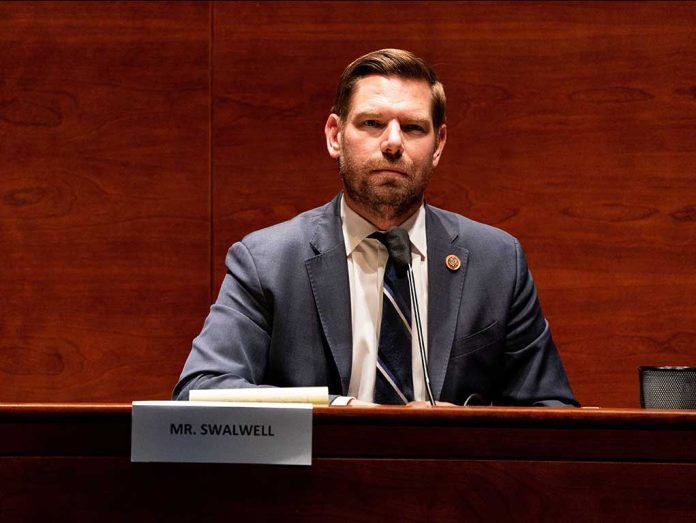 (RepublicanJournal.org) – Representative Eric Swalwell (D-CA) didn't take well to the news that newly elected House Speaker Kevin McCarthy (R-CA) had pulled him from his seat on the Intelligence Committee. The congressman resorted to full-blown threats in response to the Speaker's recent decision, which also stripped Representative Adam Schiff (D-CA) of his position on the panel. Additionally, the new Speaker is rallying support to vote Representative Ilhan Omar (D-MN) off the House Foreign Affairs Committee.
We don't think they will https://t.co/tjbCue7CnC

— Daily Caller (@DailyCaller) January 26, 2023
The Daily Caller reported that Swalwell spoke at a recent press conference, assuring opponents and supporters alike that McCarthy's move wouldn't affect him or his agenda. "I think he'll regret giving all three of us more time on our hands," he stated.
McCarthy has defended his decisions, offering his reasons for each of the committee removals. He alleges Swalwell is untrustworthy because he had an affair with a Chinese spy. While the California Democrat has denied doing anything wrong, and no one has tied him to any leaked intelligence, McCarthy still clearly wanted to err on the side of caution. Many Republicans saw the move as a long time coming. Seventeen conservative members of the House had asked for Swalwell's removal when the scandal first broke in 2020, but the Speaker at the time, Nancy Pelosi, failed to act.
McCarthy's reasoning for removing Schiff included statements the representative made in response to news about Hunter Biden's abandoned laptop, which the California liberal called "Russian disinformation." Schiff also adamantly supported the infamous Steele dossier, which intelligence sources have largely debunked. The Speaker is lobbying for support to cut Omar over her past displays of anti-Semitism, but two GOP representatives have indicated they oppose the plan.
Swalwell, in turn, accused McCarthy of decimating "the credibility and integrity" of the House. Colleagues Schiff and Omar have offered similar sentiments. Schiff took to Twitter on January 24 to air his initial grievances, claiming the move against him was purely in retaliation for his investigations into alleged wrongdoings of former President Donald Trump. Omar followed suit the next day, saying McCarthy's campaign against her was "purely partisan" and unearned "punishment" that undermined the committee's work.
Copyright 2023, RepublicanJournal.org