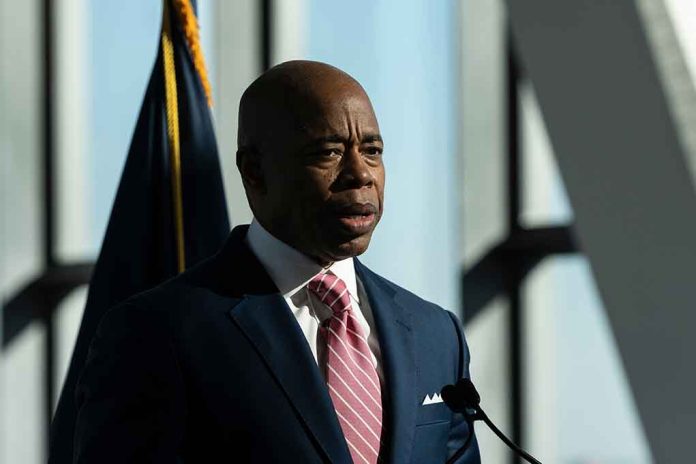 NYC Mayor Reports "Breaking Point" – He's Falling Apart
(RepublicanJournal.org) – In an effort to bring attention to the issue Biden's immigration policy has created for border communities, Governor Greg Abbott (R-TX) started to send migrants to sanctuary cities such as New York City (NYC), Chicago, and Washington, DC. The Republican's point might be starting to weigh on these areas now that they've received thousands of migrants from the Texas leader. NYC Mayor Eric Adams (D) recently voiced his concern on the matter.
Lone Star Leader
As undocumented individuals flooded over the southern border, Texas and other neighboring states quickly became overwhelmed. Many of these communities are still struggling to deal with the influx of illegals. As a result, Governor Abbott started Operation Lone Star in 2021 in the hopes of proving a point to Democrats, namely the president and those running sanctuary cities, to protest Biden's seemingly open border policy. Fox News noted that Texas has sent 7,900 migrants to Washington, DC, around 2,200 to NYC, and 300 to Chicago since early August. The governor spoke with the outlet and mocked these areas complaining about receiving a few hundred migrants a day when border communities were seeing that many every hour.
Reaching a Breaking Point
In DC, Mayor Muriel Bowser (D) has asked for the National Guard to help prevent a humanitarian crisis from erupting in the Capitol due to the arrival of immigrants. Mayor Adams recently released a statement claiming his city was reaching its "breaking point." The Democrat noted that NYC has seen an "unprecedented surge" of migrants seeking asylum as 11,000 have arrived in the last few months. The city has recently struggled with housing the newcomers.
Of course, what these cities are dealing with is a drop in the bucket compared to the situation in border towns like El Paso, Texas, where around 1,000 undocumented individuals are sleeping on the streets due to the community being flooded with illegals. Perhaps the point Abbott is trying to prove with Operation Lone Star is beginning to resonate with Adams and other Democratic leaders. What NYC, DC, and Chicago are scrambling to accommodate is only a fraction of what Texas and other border states see regularly. If the Big Apple is at a breaking point, how does Adams think El Paso feels?
Adams asserted the city needs to reevaluate its prior practices of dealing with asylum seekers, claiming the policy never considered such a significant influx of immigrants. The mayor noted the city will remain focused on helping the individuals and families seeking better lives.
Copyright 2022, RepublicanJournal.org