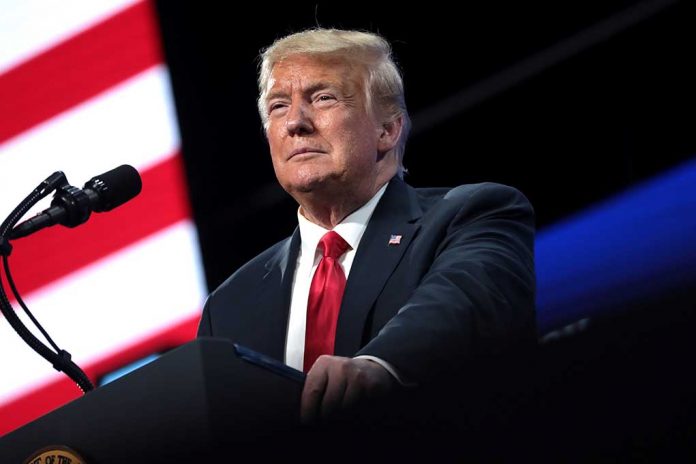 (RepublicanJournal.org) – The Young Presidents Organization (YPO) describes itself as a "global leadership community" with "the shared belief that the world needs better leaders." Set up in 1950, it currently has 30,000 members across the globe. The organization's highest honor is the Young Presidents Organization's Gold NYC Lifetime Achievement Award.
On Wednesday, June 23, former President Donald Trump received the YPO's highest honor at a ceremony held at the Trump National Golf Club in Bedminster, New Jersey. Randy Waterfield cited the former president's "extraordinary leadership," which has led to the "betterment of our Country," while presenting the award.  
Trump joins former Presidents Bill Clinton and George W. Bush in receiving the award and is the third US president to receive the honor. 
Congratulations Trump! Well deserved.
Trump Wins YPO Gold Achievement Award | https://t.co/dSK6biBhhm https://t.co/TN7KebnhJZ

— M.P. Reddy,Ph.D. CommonSense Policies 4 Americans (@mpreddy54) June 24, 2021
In a Wednesday statement, Trump thanked Waterfield, who represents the Gold NYC Chapter of the YPO, for presenting him with the award. Waterfield is CEO and former chairman of Waterfield Holdings, a family business started in 1928. The company has since diversified into many different fields, including technology and merchant banking. Today, the company manages assets in excess of $2 billion.
When presenting the award to Trump, Waterfield noted the former president's successes, including lowering taxes, reducing regulation, and strengthening the border. It's good to see there are still so many people who appreciate what he did for America.
Copyright 2021, RepublicanJournal.org