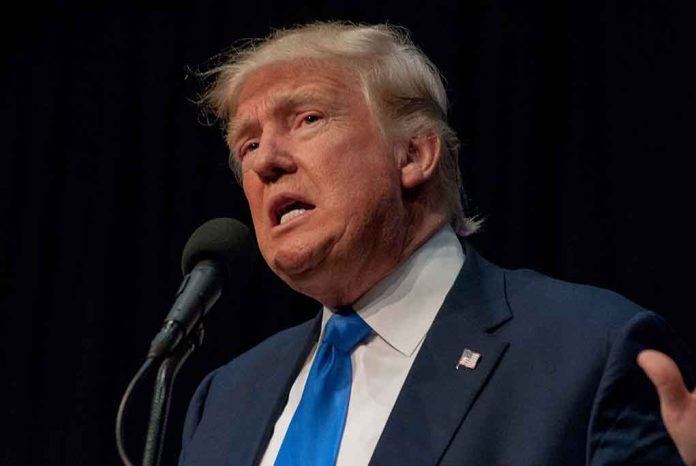 Donald Trump Reports the DEATH of the American Dream – It's Happening!
(RepublicanJournal.org) – President Joe Biden has undoubtedly struggled on a number of fronts since he took the presidential seat in the Oval Office. His management of the pandemic was highly suspect, the economy has been in dire straits for months, and issues around violent crime and illegal immigration continue to run rampant. Many conservative analysts believe there is only one man who can turn the ship around in the right direction – former President Donald Trump.
On Tuesday, July 26, the 45th president gave his first public address in Washington, DC since leaving office at the beginning of last year. His comments have set many tongues wagging.
Trump Takes the Stage, Blasts Biden
The speech, which Trump delivered at the America First Agenda Summit, touched on a wide range of topics. He started with a scathing takedown of the "public safety" situation under the Biden administration, highlighting crime in urban areas and border issues as being two major factors compromising the security of the United States right now.
From there, he moved on to a discussion about the importance of law enforcement. The 45th president expressed his support for the nation's officers, claiming the idea of "defunding the police should never be heard of again." He also said that officers shouldn't have to fund their own attorney fees when accused of civil wrongdoing.
The popular Republican also slammed "Joe Biden's open borders agenda," claiming it was time to increase the number of deportations taking place. He called on right-wing lawmakers to set the wheels in motion in this respect, suggesting they try to include border security measures in this year's spending bill in the fall.
Is This the Beginning of Trump's 2024 Campaign?
There has been speculation about another run for office by the former president since he left the White House at the beginning of last year. Though the right-leaning politician and media personality has yet to make public any decision on the matter, analysts increasingly believe he wants to try again, and this speech has only solidified the suspicion for many.
The similarities between Trump's points in this week's address and the fiery rhetoric that won the hearts of conservatives and independents in 2016 are easy to recognize. Then, as now, he focused on the core issues Americans care about: border security, law enforcement, and the economy. He was also quick to highlight the inadequacies of the Democratic Party's leadership, mirroring his criticism of "crooked" Hillary Clinton in 2016.
Do you think Donald Trump is eyeing another bid for the Oval Office?
Copyright 2022, RepublicanJournal.org